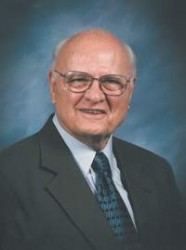 Don Byers
When asked about one of Drake University's consummate supporters, those who knew Drake longtime trustee Donald C. Byers, who died June 5 at 84, spoke about his dedication, generosity, friendship and love of learning.
Byers of Newton, Iowa, was remembered at a Celebration of Life service at 10 a.m. Monday, June 14, at the First United Methodist Church in Newton.
"Don was a remarkable man of great intelligence, warmth, wit and insight, the model of the committed and engaged trustee, and a fiercely loyal Drake alum," said Drake President David Maxwell. "He was a wonderful friend to Drake University, and to Maddy and me personally, and we shall miss him terribly."


A commitment to lifelong learning
Byers, who served as a member of Drake's Board of Trustees from 1983 until his death and chair from 1989-1992, helped spearhead the University's RaySociety for Lifelong Learning for which he served as president from 2005-09.
"He was an outstanding citizen and significantly contributed to so many people and organizations," said RaySociety President Jim Wise, who helped Byers in developing the organization. "Our mutual efforts have developed the RaySociety into a mature organization, which will reflect Don's commitment to learning, the University and the community at large. We have lost a great man and we appreciate all he did."
Last fall, Byers and his wife, Dori, celebrated the installation of the Don and Dori Byers RaySociety Classroom in Drake's Dial Center at 2407 Carpenter Ave. The organization's first classroom was created and named in honor of the couple who were instrumental in founding and supporting the organization.
"Don was our first president and led us through the organization process," said Betty Grandquist, who serves as secretary for the RaySociety Executive Committee and is a member of the Board of Directors. "He showed exceptional leadership qualities — his leadership brought people together to make the RaySociety what it is today."
A strong connection to Drake Law School
Byers, who earned his law degree from Drake in 1951, engaged in private practice in Newton from 1951-1953. He joined Maytag Corp. in 1953, serving as staff attorney and assistant general counsel until 1974. He then became general counsel secretary, a position he held until his retirement in 1990.
The recipient of many awards, Byers earned an Honorary Doctor of Law Degree from Drake and the University's Distinguished Service Award, both in 1993.
Byers was active in the Law School's Task Force for the National Commission on the Future of Drake University, the Board of Counselors and was a key member of the Campaign Committee for Opperman Hall and Law Library.
"Don Byers' passing is a great loss, and he will surely be missed by all of those fortunate to call him friend in addition, of course, to his lovely family," said David Walker, former dean of the Law School and professor of law. "But his is surely a life to be celebrated. He was a wise, gracious and giving friend who provided outstanding leadership in so many, many places, not least, Drake University and the Law School."
Byers also has been a strong supporter of law students through the Donald C. and Doris K. Byers Scholarship. The award is given annually to an entering first-year student based upon both merit and need with preference given to residents of Newton, Iowa, and the surrounding area of Jasper County, Iowa.
A well-rounded life
In addition, Byers was involved with many local and national organizations, including the American Bar Association, Iowa State Bar Association, the Iowa Association of Business and Industry, Iowa Coordinating Council for Higher Education and the Centre for Arts and Artists.
He also enjoyed being with his family, hiking and skiing in the mountains, traveling, exercising, painting, photography and the arts.
Byers is survived by Doris "Dori" Byers of Newton; one son, Alan (Dawn) Byers of Fort Collins, Colorado; three daughters, Kathleen (Robert) Savit of Ann Arbor, Michigan, Karen (Kent) Bonte of Clermont, Iowa; and Annette (David) Askam of Terrace Park, Ohio. He was preceded in death by his parents and a brother, Thomas.
Memorials have been requested to the Newton Center for Arts and Artists or may be left at the visitation or the church the morning of the service. Read the entire obituary online.