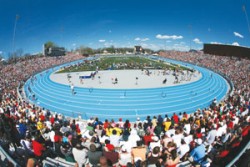 Drake Stadium's distinctive blue track.
With the start of the USA Outdoor Track and Field Championshipsat Drake University less than two weeks away, competition director Mark
Kostek said things are shaping up for the event to be "the greatest
track and field meet ever held in the state of Iowa."
"This is the official USA championship for track and field and when
you survey the field of the athletes who have entered the meet, it has
been super," said Kostek during a news conference on Thursday at Drake.
"We've had a great response."
Drake Relays crowd favorites Chaunte Lowe and Bernard Lagat head a
list of 22 Olympians entered in the meet (as of Wednesday, June 9). The
meet will be held June 23-27 at Drake Stadium, 2719 Forest Ave.

Lowe, who competed in the 2004 and 2008 Olympics, recently set an
American record in the women's high jump at six feet 8.25 inches in
Cottbus, Germany, May 30. Lagat, a three-time Olympian, set an American
record June 4 in the men's 5,000 in Oslo, Norway, in 12 minutes 54.12
seconds.
"I anticipate the number of Olympians who will be competing here to
double or even triple as we get closer to the entry deadline (June
18)," said Kostek, who also is an assistant athletic director at Drake.
World-class athletes expected to set Drake Stadium records
Five athletes, who own world-leading marks in their respective
events, also will be competing. "From that perspective, we have a great
field of athletes for track fans to enjoy," Kostek added.
The list of world leaders is headed by Lowe and 2008 Olympian David
Oliver, who owns the fastest time in the world in the men's 110 hurdles
of 12.99 set in Shanghai, China, May 23.
Other world leaders include:

Calvin Smith Jr., who has a world best time of 44.81 in the men's 400
Cory Martin, who is the world leader in the men's shot put at 72 feet 6.25 inches
Queen Harrison, who owns the world's top time in the women's 100 hurdles of 12.61
Kostek expects an all-out assault on Drake Stadium records.
Since the renovation of Drake Stadium was completed in 2006, 25
Drake Stadium records have been set. The last time Drake hosted a
national championship meet — the 2008 NCAA Outdoor Championships — 17
Drake Stadium records were set.
"Right now, I would anticipate as many as 10 to 15 stadium records that could be set," Kostek said.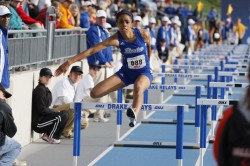 Ari Curtis
Meet to feature Drake's own Ari Curtis
Drake will have one student-athlete competing in the USA Outdoor Track and Field Championships.
She is Drake junior Ari Curtis (Fort Collins, Colo.), who set her
fifth school record of the season in the 400 hurdles at the NCAA
Outdoor Track and Field Championships held earlier this week in Eugene,
Ore.
Curtis finished third in heat two during the semifinal round, being
clocked in 57.89 seconds to better her previous school record of 57.98
seconds set at the NCAA West Regional in Austin, Texas, on June 4.
Her time of 57.89 met the provisional qualifying standard of 57.95
to compete in the USA Outdoor Track and Field Championships at Drake.


Top athletes under 20 years of age to compete in Junior Nationals
The USA Junior Nationals also will be held during the same time at
Drake Stadium with athletes competing for berths on TEAM USA for the
upcoming Junior World Championships to be held July 19-25 in Moncton,
Canada.
"That is what makes this meet so special because you will see the
best high school athletes in the United States competing as well," said
Kostek. "There will be some emerging elite athletes who could be
household names at the 2016 or 2020 Olympics."
Hannah Willms from Dike-New Hartford High School heads a list of
Iowa preps entered in the Junior Nationals. She has the best prep mark
in the United States in the women's high jump at 6-1.


Tickets, special packages on sale now
Tickets sales are going well and good seats are still available.
All-session tickets, covering five days, are on sale for $100. A
special Saturday and Sunday package is $50. Individual session tickets
are also on sale for $20 for Wednesday, $25 for Thursday and $30 for
Friday, Saturday and Sunday.

Tickets are available by calling the Drake Athletic Ticket Office at 515-271-3647 or visiting www.godrakebulldogs.com.
"One of the things we're looking to do is to establish Drake
Stadium as a viable site for the Olympic Trials," said Kostek. "So what
we'd like to see happen is for the Greater Des Moines community to turn
out and show its support and give the athletes a great experience
here."