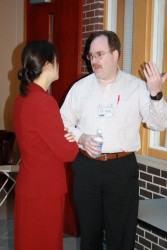 Gavin Quill speaks with Associate Professor of Law Ellen Yee.
Two Drake law students, who landed internships as clerks for federal and district court judges, gained a set of crucial skills from the hands-on learning experience.
Gavin Quill, entering his third year of law school, and recent law graduate Peter Gierut — were chosen for the competitive Honors Judicial Internship through the Law School's Legal Clinic.
"This is a tremendous opportunity for our students that very few law schools are able to provide," said Jerry Foxhoven, executive director of the Legal Clinic and associate professor of law.
"It gives our students real hands-on experience working on real cases for real judges — giving the students an insider's view of the judicial system while making them better prepared to practice law upon graduation."
Foxhoven also said the judicial internship makes an important addition to any student's resume, increasing chances for employment after graduation.
"I think the clerkship is a tremendously valuable opportunity…I believe you cannot truly be a lawyer until you have been inside the courtroom and you understand the procedures, hearing the motions, seeing the evidence being presented, observing the opening and closing arguments," said District Associate Judge Odell McGhee, who oversaw Gierut in his clerkship.
"The judges benefit from the extra help with legal research — it's a win-win situation, especially since the staff cuts," McGhee added. "The interns have filled some of the void left as a byproduct of the assistants and court attendants who have been cut."
Program expanding this summer, fall

For the 2009-10 academic year, the clerkship program placed eight students in clerkships and has expanded to include Iowa Supreme Court clerkship opportunities that will continue next fall.
This summer, 11 students will work in Polk County courts, two for the Iowa Supreme Court, one for a judge in Minnesota and one in the United States District Court for the Southern District of Iowa in Des Moines.
Quill, who clerked for Chief Judge Robert Pratt of the United States District Court for the Southern District of Iowa, said he applied for the program because of the in-depth federal trial court experience it offered.
"The Drake Legal Clinic is known for offering hands-on learning experiences like this," said Quill, of Clive, Iowa. " The prestige and practicality of these judicial internships are just some of the reasons why Drake consistently ranks as one of the nation's top clinical law schools."
During the spring semester, Quill worked on researching and drafting summary judgment orders and various motion and discovery orders for civil cases dealing with the Federal Arbitration Act, the Fair Labor Standards Act and the Iowa Civil Rights Act.
In addition to his research and writing duties, Quill also participated in numerous hearings and trails, communicating with the judge via instant messaging in the courtroom. "If Judge Pratt had a question or an observation, he would instant message me and I could answer him without disrupting court," Quill said.
Quill, who also interned for Court of Appeals Judge Edward Mansfield in the summer of 2009, said that his federal internship has prepared him for the next step in his career. He plans to pursue a federal clerkship before going into private practice.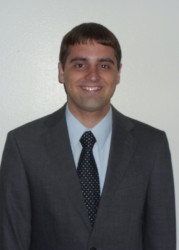 Peter Gierut
Program helps students find other job opportunities
A native of Cedar Rapids, Iowa, Gierut interned at the Polk County Courthouse. He worked closely with Chief Judge Arthur Gamble, as well as District Court Judge D.J. Stovall, LW'82, District Associate Judge Odell McGhee and Associate Juvenile Judge Constance Cohen, ED'72, GR'77, LW'87.
"One the best things about the clerkship was that I was able to gain experience in a wide variety of subject matters, including cases involving civil procedure issues, civil litigation, evidence, juvenile law, family law and administrative law," said Gierut, who also worked at the Drake Legal Clinic in the fall 2009 semester.
"I gained invaluable research and writing experience, as well as an in-depth look into the inner workings of the courthouse."
Experiencing both sides of the bench
Gierut said his internship experience and work in the Legal Clinic provided him with "the very unique opportunity to appear in front of the judges in court while simultaneously working with other judges behind the scene."
Both experiences led Gierut to a summer job working as an independent law clerk for Senior District Court Judge for Scott County John Nahra. In his position he is drafting legal memos and rulings for cases that the judge has taken on as an independent arbitrator and mediator.
"This work is very similar to the work that I did in my internship," Gierut added, "and that internship has prepared me very well for my current job."
Both students credit their Drake experience for preparing them for internships and future careers.
"Drake provides its students with an extraordinary amount of opportunities to gain practical experience and bolster a resume," Gierut said. "I am confident the clerkships I completed while at Drake will make my job hunt a lot more successful."
"I'm an alternative student — I'm in my mid-forties, and law is a second career for me," Quill said. "My undergraduate degree is from Harvard, and I find the academic challenges of studying at Drake Law School every bit or even more rigorous than those at Harvard. The academic standards at Drake are high and the students are competitive and high quality."