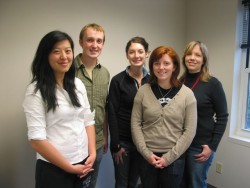 The Ba Ling Hou team poses for a photo. Not pictured: Sheng Peng, who is currently studying abroad in Austria.
Drake Associate Professor of Sociology Darcie Vandegrift and her students were recently awarded an ASIANetwork Freeman Student-Faculty Program Fellowship, enabling them to travel to China to study urban youth. Drake is one of 13 institutions selected for the grant; a total of 45 colleges applied.
The Fellowship includes $21,455 in financial support that will be used to cover expenses the Drake team will accrue during the project. The funding will cover supply, transportation, lodging and communication costs. Vandegrift and the students will also attend the spring 2011 ASIANetwork conference in Illinois to present their project.
ASIANetwork is a consortium of over 170 North American colleges dedicated to strengthening the role of Asian Studies within the framework of liberal arts education.
The project, which is titled "Ba Ling Hou: Identity and Consumption in Urban China," will focus on the Chinese youths who have come of age in a society shaped by rapid economic transition, emergent global influences and shifting technology landscapes. As "ba ling hou" (a term that refers to youth raised after the 1980s), this group is understood as a generational category extensively discussed in Chinese media.
"Drake has proposed a very exciting and important project that we believe will enrich their lives, deepen their research skills and further contribute to our understanding of Asia," said Van J. Symons, director of the ASIANetwork Fellowship Program.
Drake students involved in the project include:

Carly Hurley, a senior biochemistry and molecular biology major from Rosemount, Minn.
Tyler O'Neil, a junior news and internet major from West Branch, Iowa
Sheng Peng, a junior international relations major studying abroad from Kunming, China
Kathleen Stephenson, a senior study of culture and society and English major from Naperville, Ill.
Xian Zhang, a senior sociology and law, politics and society major from Urbandale, Iowa
During the visit abroad, which will take place from June 15 to July 15, each team member will focus on a facet of consumerism (art, books, hairstyles, social media, food, etc.) to document how youth in China construct themselves as modern, middle-class citizens.
"I want to study the meaning of reading for today's urban Chinese young adults and what kind of social functions a bookstore provides the youth," Peng said. "Also, being away from China for so many years has made me feel distant from my home country; this research project will give me a great opportunity to reenter my own culture and look at it from a new perspective."
"I am most looking forward to exploring the culture and dynamics of the emerging adult population in China," Zhang said. "This generation is so fascinating because they eat, think and consume products far differently than older generations, those that lived through the Cultural Revolution and grew up with Confucian and more traditional ideals."
The project will culminate with a presentation to the Nanjing community, as well as an exhibit held in Drake's Cowles Library Collier Room from December 10 to February 15.
"My motivation to work with our research team stems from my dual passions: transnational youth studies and mentoring undergraduates," said Vandegrift, who has also taught classes on globalization at Nanjing University. "After working with the Ba Ling Hou team, I am truly impressed with their abilities and enthusiasm, and I eagerly anticipate the kinds of data that we will collect and interpret through this project."