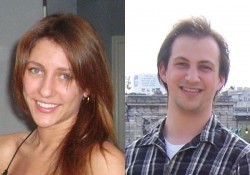 Rachael Brenner and Jacob Heller.
Two Drake business students are embarking on phase two of a summer internship program that will place them in overseas branches of the companies that hosted them last summer as interns in the United States.
Jacob Heller, a senior finance and accounting major from St. Paul, Minn., and Rachael Brenner, a junior accounting major from Prairie Village, Kan., were selected last year as the first participants in Drake's International Business Internship Program.
Last summer, the College of Business and Public Administration internship placed the students in the accounting field — Heller in the Internal Audit Department at Kemin Industries in Des Moines and Brenner at the Pioneer Hi-Bred International Inc. headquarters in Johnston, Iowa. Both continued on in their internships on a part-time basis during the 2009-10 academic year.
This summer, Heller and Brenner will take what they've learned in the classroom and from their domestic internships and apply it at their host company's international sites in Belgium and Switzerland, respectively.
Heller, who speaks some Dutch and Spanish and has studied in Amsterdam, will spend three months this summer at Kemin AgriFoods Europe division in Herentals, Belgium. He will also spend several days in Asia, conducting on-site audits at Kemin business units in India, Singapore and Japan.
"I'm looking forward to learning how a multinational company works, as well as how to deal with people from different cultures," said Heller, who graduated this month and plans to pursue his CPA and master's degree in accounting at Drake while working part-time for Kemin.
"Worldwide, international experience is a really valuable," Heller said. "And, by the end of the summer, I'll be able to say that I've worked all over the globe."
Brenner departed for Pioneer Hi-Bred Switzerland S.A. in Lugano, Switzerland, after her final exams at Drake.
"Pioneer gave me a couple of projects to see what I could do, and then handed me a large budget and put me in control of the projects," Brenner said. "I was impressed that they would be willing to give an intern so much responsibility."
In Switzerland, she will take on two key projects relating to internal controls.
Brenner, who speaks French and Spanish, expects to enjoy her first abroad experience.
"I'm looking forward to everything — seeing how an international company operates, how processes are different from those in the United States, and how international companies connect," Brenner said. "My goal is to be a financial director for a worldwide company, so this experience is absolutely key. It's a once-in-a-lifetime opportunity."
Travel arrangements for Heller and Brenner have been made possible by a donation from Dwight "Joe" Dollison, a 1968 Drake business graduate, and his wife, Diane. Dollison has been an active member of the college's National Advisory Council.
"This program is unique in that students work for the company before they go abroad, and get a good feel for the business and the work that it does before they leave for their foreign experience," said Annette Watson, the college's career development manager. "Anytime you can have that work experience abroad, it's priceless. It just adds so much to the Drake experience."
For more information about the internship program, contact Watson at 515-271-4715 or annette.watson@drake.edu.