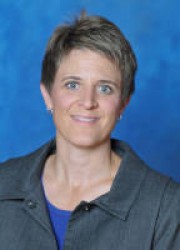 Amy Stephens
On Tuesday, June 15, Amy Stephens, head women's basketball coach at Drake University, will be a panelist at the Des Moines Business Record's Power Breakfast, which will focus on "The Business of College Athletics."
The panel will feature leaders from Iowa's four Division 1 programs. They will discuss a wide range of topics, including successful team building, effective communication, fundraising and donor relations.
The other panelists will be:

Troy Dannen, director of athletics at the University of Northern Iowa
Mark Jennings, associate director of athletics for donor and patron services at the University of Iowa
Jamie Pollard, director of athletics at Iowa State University
The event will start with a continental breakfast at 7:15 a.m. at the Des Moines Club, 666 Grand Ave. The program will run from 7:30 to 9 a.m.
The cost is $25 per person. Registration is required due to limited seating. To register online, go to the Business Record website and click on "Business Record Events."