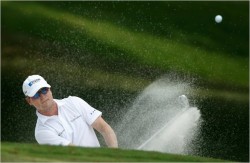 Zach Johnson in a bunker on the 14th hole. Photo by Scott Halleran of Getty Images.
Professional golfer Zach Johnson, BN'98, added to his collection of championship jackets last weekend by winning the Crowne Plaza Invitational at Colonial Country Club in Fort Worth, Texas.
Johnson, a Cedar Rapids native who played golf for Drake, finished at 21-under-par 259 to break the tournament 72-hole scoring record by two strokes. He received a trophy, a $1.116 million check and a distinctive plaid Colonial jacket to go with the green jacket he won at the 2007 Masters.
"The green one was humbling, probably a little bit more surreal. I used that word a lot back then in '07, because it still is," Johnson said. "This one is very humbling and, you know, just knowing the gentlemen that have donned this jacket and will don this jacket and putting myself in that company is very humbling."
Johnson has won a total of seven tournaments, including five since he finished first in the 2007 Masters.
Read a more detailed account of the Colonial tournament on the New York Times Web site.