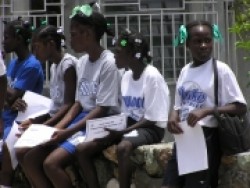 Haitian girls sport their Drake T-shirts during the day-long basketball clinic.
On a recent trip to Haiti, Drake University Women's Basketball Coach
Amy Stephens and Athletic Director Sandy Hatfield Clubb conducted a
day-long basketball camp, providing much-needed fun and hope to 40
Haitian girls. To view a photo gallery of the trip, visit: https://wwww.drake.edu/gallery/index.php?gallery=134.
Since January's devastating earthquake, the children of Haiti have
suffered from deficiencies in food, shelter and medical care. The
basketball camp was organized to bring fun and support to children
impacted by the disaster.
News outlets including CNN, MSNBC and the Des Moines Register have featured Stephens and Hatfield Clubb and the story of their journey.
The trip, which took place in mid-May, was coordinated by the
Iowa-based Meals from the Heartland, for which Hatfield Clubb has
served on the Board of Directors since the organization's inception two
years ago.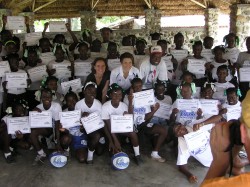 Amy Stephens and Sandra Hatfield Clubb pose for a photo with girls who participated in the basketball clinic.
After arriving in Haiti, Stephens and Hatfield Clubb served food at Food for the Poor. Food for the Poor is a primary distributor for Meals from the Heartland. The trip was an extension of Drake's previous Meals from the Heartland Haiti relief efforts.
Stephens and Hatfield Clubb toured a Port au Prince hospital and visited two different orphanages before traveling to the Lifeline Missions compound where they were housed with other aid providers. On May 12, they conducted a three-hour basketball camp for fifth- and sixth-grade girls.
"The entire experience was certainly humbling, eye-opening and life changing," said Hatfield Clubb. "The basketball clinic itself was extraordinary. It certainly brought joy and a positive distraction to a lot of young girls."
Stephens described the trip as one of the most rewarding experiences she's ever had.
"The reaction was really cool because for a few minutes you forgot you were in Haiti," Stephens said. "They were typical girls having fun — smiling and laughing. They didn't care if they made or missed shots, they were just excited to be playing.
"We were able to bring a lot of joy and fun to a group of girls who had suffered imaginable hardship," she added.
"The clinic was a liberating experience for the girls," said Hatfield Clubb. "I could envision the first time someone gave basketballs to girls and women in the United States. Coach Stephens planted a seed that could change Haitian women's lives forever."
"The basketball program for girls has continued in Haiti since we left — they've appointed a coach," Stephens added. "Who knows? Maybe we started a movement for girls basketball in Haiti."