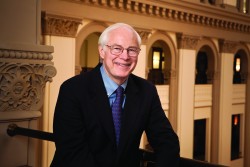 Former Iowa Congressman Jim Leach, chairman of the National Endowment for the Humanities.
Local organizations are partnering to share the importance of civility in our community through the Better Together — Creating Community through Civility speaker series. Jim Leach, chairman of the National Endowment for the Humanities and former Iowa Congressman, will kick off the series on Friday, June 18.
Drake University, Character Counts In Iowa, the Community Foundation of Greater Des Moines and the Interfaith Alliance of Iowa are partners in the speaker series and believe civility is an integral part of strengthening our community.
"In all relationships, trust is fundamental. Civility is manifest in trust and respect for one another," Community Foundation President J. Barry Griswell said. "We are encouraging all citizens in Iowa to look for the common ground that will help us resolve the challenges we face with civility. Once we find it, we can achieve more than we ever thought possible."
"The dramatic decline in civility, from political discourse to
media pundits to individual behavior, is one of the most troubling
currents of our time," said Drake President David Maxwell. "As a
University with a Statement of Principles committing us to civil
discourse on campus, and our social compact to serve the greater good
of our community, we are very pleased to have been invited to serve as
one of the sponsors of this vital initiative. We hope that our
collective efforts will not only have an impact on our community, but
that they will allow Iowa to serve–as it does in so many ways–as a
positive model for the nation."
Leach will discuss "Civility in a Fractured Society" as part of his 50-state civility tour. The June 18 event will begin with a lunch and reception from 11:15 to 11:40 a.m., followed by Leach's presentation at 11:45 a.m. in the Principal Financial Group Auditorium, 711 High St.
Box lunches will be provided. Attendees
should enter by 11:30 a.m. from the street-level entrance at 711 High
St. and be prepared to present a driver's license at the security desk.

The event is full and reservations are no longer being accepted. Leach's speech will be streamed live at www.iptv.org at 11:45 a.m. June 18 and rebroadcast at 9:30 p.m. that day on Iowa Public Television.
Sponsors are Bankers Trust Co., the Principal Financial Group and ZANDA Design.
Partner organizations are: