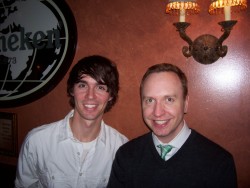 Drake alumni Timothy Ryder, JO'05, and Sandy Marshall, AS'96, didn't dream as students at Drake that they would later direct and perform improvisational comedy for Second City in Chicago. During their education at Drake, the courses and opportunities on campus allowed them to discover their desire and ability to perform comedy.
Second City is an improvisational comedy theater that has produced cutting-edge improvisation and topical sketch comedy for 50 years. The theater just celebrated its 50th anniversary and Ryder and Marshall were involved as performers and directors.
While at Drake, Ryder earned a bachelor's degree in public relations and marketing and gained an internship with the marketing director of ComedySportz theater in Chicago. The internship helped him realize his dream to be a comedian after graduation.
As a senior, he was exposed to Second City who made an appearance at Drake and realized that it was a field in which he wanted to be involved. Ryder established Drake's first improv troupe DICEY (Drake Improv Comedy Experiment, Yo) that year.
"One experience I had at Drake that helped me along this path was when I took an Honors course entitled Modern Political Satire. We looked at many types of political satire — both historical and modern," said Ryder. "This course really cemented my opinion that humor could not only be just a fun diversion but also a force for good."
In January 2008, he auditioned for The Second City, and was offered a cast spot with Norwegian Cruise Lines. Ryder joined The Second City Green Co. as an understudy in September 2009, and officially joined Green Co. in January.
Marshall graduated with a bachelor's degree in history and was involved in communications, radio shows and the Times-Delphic and was student body president in 1996. He took a number of theater courses, which he says helped him immensely after graduating. He also said that the environment allowed him to study a variety of areas and experiment with different forms of comedy.
He took classes in Chicago at Second City and founded Schadenfreude, an aboveground sketch comedy group. Four years ago, Marshall joined The Second City as an actor and now serves as director.
"My experience has been fantastic — working there has been a dream come true. The best part about working there is definitely the people. You go to work everyday and are constantly surrounded by laughter. I'm particularly lucky to work with such a fantastic company."
He also owns his own company — Marshall Creative — a Chicago-based marketing agency. Marshall co-wrote and was executive producer for the television pilot "Shiny People" and was nominated for a Chicago Emmy with Schadenfreude.