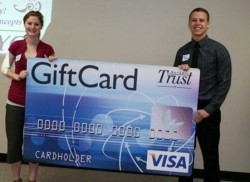 Robin Sautter and Ryan Goodson display a check from United Way.
Ryan Goodson, a Drake University senior health sciences major, has combined his interest in dentistry and compassion for helping people by organizing a non-profit group dedicated to promoting oral health.
This spring, Goodson's Battle the Cavities project received a $1,000 check from the United Way's Community Youth Venture Program, which was designed to encourage young people to start and manage their own organizations. The monetary grant will support the assembly and dissemination of 2,500 oral hygiene kits to children in the Des Moines community.
The oral hygiene kits will include a toothbrush, tube of toothpaste, container of floss and kid-friendly brushing and flossing how-to diagram.

"There is a large and growing number of youth in the metro area who can't afford proper dental care, and inadequate care can lead to many negative consequences," said Goodson of Ankeny, Iowa.
Goodson, who is also pursuing a concentration in pre-dentistry, said that the organization's goal is to improve the oral health of children by educating them about proper brushing and flossing habits to decrease the chances of cavities and other dental problems.
Working alongside Goodson are Drake junior biochemistry, cell and molecular biology majors Robin Sautter, from Lanesboro, Minn., and Dave Duevel, from Roseville, Minn.
The Drake students will visit elementary school classrooms this fall to distribute the kits and deliver presentations on proper oral hygiene.
Local dentist Chad Wagener is an adviser for the group, providing them with guidance on how to present dental hygiene information to children.

"This is a great project because kids need to get started early with good oral hygiene to enjoy healthy teeth and overall health for a lifetime," said Wagener, who practices dentistry at Ankeny Aesthetic Dentistry.
"Not all kids are given the opportunity to have new toothbrushes as often as they should, nor are they given proper instruction on usage and frequency of brushing, flossing and dietary habits. If we can get kids to understand the importance of oral hygiene, we will have healthier generations of people to come."