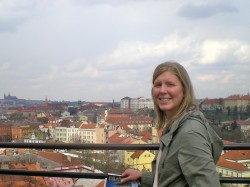 Kelsey Keizer poses for a photo in Prague, during her teaching abroad experience in the Czech Republic.
Drake's School of Education graduates begin their teaching careers all over the United States. This year, nine new alumni will have a very different experience, however, as they start their teaching careers abroad.
A guiding principle of Drake University is to prepare students for responsible global citizenship. The increased emphasis on experiences abroad and global awareness motivated these Drake students to accept teaching jobs in eight countries worldwide — from China to Ecuador.
"Teaching abroad has been a goal of mine since I decided not to study abroad my sophomore year," said Jane Clarke, of Prairie Village, Kan.
"I can't think of a better time to try something totally different and challenging." Clarke, who recently earned a bachelor's degree in secondary education, will teach language arts in Talchung, Taiwan, to students in grades 7-12.
"I've always wanted to see the world and my decision to teach abroad came naturally," said Fabian Tan, of Des Moines, who earned a master's degree in teaching and will teach in Hong Kong.
For Andrew Brown, of Lenexa, Kan., the difficult job market in the United States motivated him to look abroad, where he found and accepted a teaching position in Seoul, South Korea.
"The job market for social studies teachers isn't the greatest right now," said Brown, who holds a degree in secondary education. "I was looking at a map of metropolitan areas in America to apply to, and I realized I had applied to about three-quarters of the major cities on the map. When I saw that, I looked up jobs outside America and found some great opportunities."
Kelsey Keizer of Arnolds Park, Iowa, has been teaching in the Czech Republic since she graduated from Drake in December with a bachelor's degree in secondary education.
"Drake stretched me and pushed me beyond my comfort level on many different levels," Keizer said. "My professors taught me how to learn from my students. I have put into practice the skill of being a good observer and then adapting and differentiating my teaching approach to my students."
Graduates Courtney Heinz, of St. Paul, Minn., who earned a bachelor's degree in secondary education, and Kaitlin Oswood, of Cedar Rapids, Iowa, who earned a bachelor's degree in elementary education, also both accepted teaching jobs in China.
In addition, three students who graduated last December have accepted teaching positions abroad:

Elizabeth Feinstein, of St. Paul, Minn., who holds a bachelor's degree in secondary education, will teach in Ecuador
Kendra Glider, of Des Moines, who holds a bachelor's degree in elementary education, will teach in Kuwait
Laina Kurth, of Loveland, Colo., who holds a bachelor's degree in elementary education, will teach in Egypt