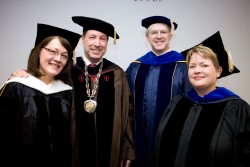 Carol Spaulding-Kruse, David Maxwell, Michael Renner and Rachel Caufield.
Drake faculty members Rachel Paine Caufield and Carol Spaulding-Kruse recently received Drake's highest honors for teachers and mentors — the annual Madelyn Levitt Awards — at Drake's undergraduate commencement ceremony last Sunday.
Drake Provost Michael J. Renner presented Caufield with the 2010 Madelyn Levitt Teacher of the Year Award, an outstanding accomplishment for the associate professor of politics who was granted tenure and promotion in 2007.
Renner also presented Spaulding-Kruse, associate professor of English, with the 2010 Madelyn Levitt Mentor of the Year Award — an honor she previously received in 2003. She is one of only two professors to have twice received the award.
"There are many outstanding teachers and mentors at Drake, and they all work together to create Drake's exceptional learning environment," Renner said. "We're very pleased to recognize Dr. Spaulding-Kruse and Dr. Caufield as exemplars of Drake's extraordinary faculty and staff. The students and faculty who supported their nominations offered moving and inspiring testimony to the ways in which teachers and mentors can truly change lives."
Caufield: Teacher of the Year
Caufield, of Des Moines, was recognized for her excellence in teaching, inspirational leadership and intellectual rigor.
A research fellow of the American Judicature Society, Caufield teaches courses in judicial politics, the American presidency, Congress and the legislative process, the American political system, political science research methodology and political satire.
"While most professors get students to learn, professor Caufield gets students to care," one junior politics major said. "Through her omnipresent passion for her discipline and her commitment to active teaching, she is able get her students to fully engage with the material she is presenting."
"Teaching is a constant challenge," said Caufield, who joined the Drake faculty in 2001 and holds a Ph.D. in political science from The George Washington University in Washington, D.C.
"It is also a great joy and an even greater honor," she added. "My students are a source of energy and fresh ideas, and I am gratified that students invest their time to develop a relationship with me as a professor."
Spaulding-Kruse: Mentor of the Year
Spaulding-Kruse, of Des Moines, was honored for her outstanding commitment to student success in and out of the classroom, as well as integrity in personal relationships.
A published fiction writer, poet and expert in American ethnic literature, Spaulding-Kruse has taught at Drake since she earned her Ph.D. in English from the University of Iowa in 1996. She teaches fiction-writing workshop courses, in which she emphasizes the benefits aspiring writers receive from working individually with a professor.
"Mentoring feels like my natural mode," said Spaulding-Kruse, who developed the Drake Writing Internship Program as part of a Service Writing Course.
"Most writing teachers I know make one-on-one or small group work a regular part of their courses because the close and intense nature of revision is suited to that format.
Both in and out of the classroom, Spaulding-Kruse has been noted for her efficacy and dedication in working with writing students, who value the guidance she offers through their experiences in college and beyond.
"When someone as talented as she is believes in you, it's impossible not to believe in yourself," a senior writing major said. "I always walk out of her office feeling so hopeful about what I have to look forward to. I know that I will have Dr. Spaulding-Kruse as a mentor and friend long after I graduate."