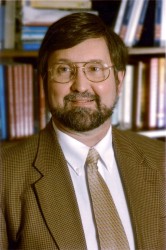 Barry Smith
Former Drake professor Barry Smith, BN'74, recently won the 2010 Independent Publisher Book Awards (IPPY) gold medal for popular fiction.
Smith's first novel, "Only Milo," a darkly funny spoof of the publishing world won the medal. Since 1996, IPPY has recognized the best titles released by the independent publishing industry each year in 67 categories.
In his book, the main character, Milo, tired of being underestimated, builds a path to notoriety fraught with deception, forgery, theft and murder. "Only Milo" was published by Inkwater Press, a division of First Books, in fall 2009.
Smith, who received the award on May 25 in New York City, recently retired from his career as an insurance and finance professor.
Seeds of inspiration
Smith said he first caught the writing bug when he began teaching preparation courses for Drake's insurance agent licensing program in 1973.
"I taught adult education for insurance agents, license preparation and noncredit courses," Smith said.
"We found that some of the introductory insurance books were just terrible, and the students just couldn't get into that dry, technical writing. We'd have 40 people sign up for these evening classes, and by the end of the course there would be six people left."
Smith decided to write a different kind of insurance textbook, crafted from the perspective of Benjamin Franklin, the father of the insurance industry. The book — "How Insurance Works: An Introduction to Property and Liability Insurance" — taught the facts but read like fiction. His textbook was published by the Insurance Institute of America and was used in the industry for 27 years.
After authoring the book, Smith went home and wrote the prophetic journal entry, "I decided to become a writer." It was a dream that would be decades in the making.
In 1974, Smith earned his business administration bachelor's degree (BSBA) from Drake, with a double major in insurance and general business. He taught full-time at Drake from 1980-1982, serving as an instructor for the College of Continuing Education.
Smith went on to earn his M.A. and Ph.D. from Wharton School, University of Pennsylvania, and moved on from Drake to teach at Wharton School, then New Mexico State University and finally Emporia State University in Kansas.
He also published many academic and scholarly works, collaborated with a fiction-writing group in New Mexico and continued his fiction writing as time allowed.



One ending, another beginning
It was during his last stint as a teacher from 2006 to 2010 — when he as a professor of finance and the Dr. Herman B. Baehr endowed chair of finance at Emporia State University — that Smith became a published fiction author.
"My writing career had been put on hold for most of the past 20 years, so my plan was to someday retire on my farm in Iowa and write," Smith said. "But then, in 2009, the Milo story came bursting out of me."
Smith wrote "Only Milo" in the spring of 2009 and saw it published in August 2009.
"I was notified on May 14 that I had won an IPPY Award," he said. "Ironically, May 14 was also my retirement day at Emporia State."
The former Drake professor and alumnus has returned to his Midwestern roots, and now resides on the farm he purchased five years ago in Ogden, Iowa. He has a view of a golf course from his acreage, space to enjoy the company of his two sons and two grandchildren and the time to finally bring to light the several works of fiction that have been simmering since his Drake years.