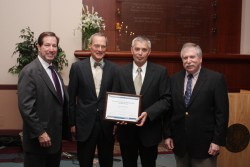 Drake President David Maxwell, Dean Charlie Edwards, Larry Zimpleman and Stuart Klugman.
More than 150 actuarial science alumni reunited and joined Drake students and employees to recognize College of Business and Public Administration alumni Stuart Klugman, BN'70, and Larry Zimpleman, BN'73, GR'79.
The inaugural Actuarial Science Alumni evening, which was held last month, featured a program honoring Klugman, former Principal Financial Group distinguished professor of actuarial science, and Zimpleman, CEO and president of Principal Financial Group.
Zimpleman, who also serves on Drake's Board of Trustees, received the first annual Stuart Klugman Distinguished Alumni Award named after Klugman for his impact on the actuarial science program and Drake.
"Principal Financial Group, under Larry's leadership, is very significant and important to Drake and the Des Moines community — both as one of our largest employers and as a corporate citizen because of its generosity," said Jim Noyce, BN'78, major gift officer for athletics at Drake and chair of the Actuarial Science National Advisory Board.
Klugman, who joined Drake in 1988 and retired in 2009, was key in developing the actuarial science program, which recently was designated as a North American Center of Actuarial Excellence by the Society of Actuaries, the world's largest actuarial professional organization.
"Stuart was incredibly important in the development of the actuarial science program," said Dean Charles Edwards. "We want to thank him for his role in growing the program to where it is today."
A 2007 recipient of Drake's highest teaching honor — the Madelyn M. Levitt Teacher of the Year Award — Klugman is well known for his outstanding teaching, service and scholarship.
"Professor Klugman's commitment to the program is at the core of the academic and professional successes enjoyed by Drake's actuarial science students," said Ryan Berends, BN'09, an actuarial associate at Aviva in Des Moines.
"Professor Klugman was the face of actuarial science at Drake for many years, and his influence will continue to foster the program's success as it moves into the future."
In addition, alumni who attended the reunion shared positive comments about the event.
"It was fun to see some fellow alumni and it is always good to have a chance to meet students," said Ned Burmeister, BN'81, of Des Moines, chief operating officer of Principal International and a member of the actuarial science program's advisory board.
"I had a great time at the actuarial science reunion," Berends said. "It was fun to catch up with my former classmates as well as current students and faculty. The strong turnout at the event was a great reminder of Drake's relationship with the Des Moines actuarial community."