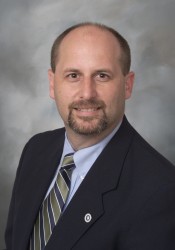 Thomas F. Delahunt III
Thomas F. Delahunt III, vice president for admission and financial aid at Drake University, recently was elected president of the Iowa Association of College Admission Counseling (IACAC).
"Being involved with the leadership of the organization will allow me to better present the needs of our students and prospects, particularly the issues of access and student preparedness," Delahunt said. "Additionally, for Drake, my involvement gives us a national voice and input on topics that directly impact our students."
Delahunt will serve the association, which serves all high school guidance counselors as well as all college admission professionals, for three years. He will also represent Iowa at meetings of the National Association for College Admission Counseling (NACAC), an associated non-profit organization with 11 regional chapters covering all 50 states, with an additional chapter for international professionals.
IACAC was created to establish and maintain professional standards in post-secondary admissions guidance at secondary schools, two- and four-year colleges, universities and other postsecondary educational institutions. The organization also makes recommendations to NACAC on the conduct and scope of its programs.
Delahunt has led Drake's Office of Admission since 2005. In fall 2009 he received Drake's Employee Excellence Award for his "ability to engage the entire Drake community in taking responsibility for enrollment and his commitment to Drake."
Before coming to Drake, Delahunt served as director of admissions and later vice provost for enrollment management at Iona College, a private Catholic school near New York City. He holds a bachelor's degree from Springfield College in Massachusetts.