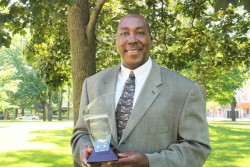 Sentwali Bakari displays his Multicultural Alumni Award.
Drake University's Dean of Students Sentwali Bakari recently was awarded the Multicultural Alumni Award from his alma mater, the University of Wisconsin-La Crosse.
The award, which was presented to Bakari at a ceremony and reception held earlier this month, recognizes multicultural alumni for their outstanding contributions to their profession and society.
Bakari, who joined Drake in 2003, received both his bachelor's and master's degrees from the University of Wisconsin-La Crosse. In 2000, he earned his doctorate in college student personnel administration from the University of Northern Colorado.
He said he was honored to receive the award and credited his experiences at La Crosse for inspiring him to become a supportive and encouraging adviser to students.
"We all know from our own experiences — or through the experiences of others — that college students need mentors," Bakari said. "They need someone who can understand their issues and concerns as much as possible. In my situation, there were a number of faculty, staff and administrators, including students and close friends, that served that role for me at La Crosse."
At Drake, Bakari also serves as adviser for the Student Senate and the Senior Student Affairs Officer. He also spearheaded Drake's Brother to Brother initiative, which targets minority male students to help them develop characteristics of manhood, academic success, service learning, financial literacy and multicultural competence. The program recently was awarded a $5,000 Prairie Meadows Community Betterment Grant.
Bakari is a member and graduate of the Greater Des Moines Leadership Institute and serves as a lead facilitator for the national LeaderShape Institute. The former president of the Iowa Student Personnel Association, Bakari was recently awarded the ISPA 2009 Distinguished Service Award.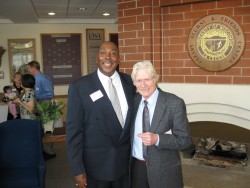 Dean Bakari gathers for a photo at the University of Wisconsin-La Crosse Alumni Awards Ceremony with Dr. James Parker, one of his mentors.