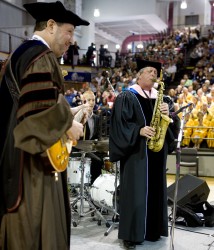 Drake President David Maxwell and Dick Oatts perform a blues ballad.
The surprise performance of a blues ballad by Drake President David Maxwell and Dick Oatts during Drake's recent undergraduate commencement recently caught the attention of The Chronicle of Higher Education.
President Maxwell and an account of the performance are featured in an article on the Chronicle's Web site.
After his commencement remarks on May 16, Maxwell picked up his Gibson Les Paul guitar and played a six-minute blues ballad with a rhythm section and Oatts, a renowned saxophonist who received an honorary degree from Drake that day. View a YouTube video of the performance online.
Maxwell told the Chronicle that he got the idea for the "graduation-day gig" after crafting his response to requests from graduating seniors for him to share with them how he achieves a healthy balance between work and life. He told seniors that he reads fiction, listens to music and plays the guitar.
Read more about the commencement performance and Maxwell's speech in an article on Drake's Web site.