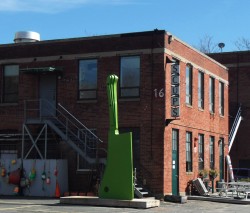 "fiddler" by Robert Craig
An 18-foot tall steel sculpture by Robert Craig, Drake University professor of art, will be featured in the First International HarborArts Outdoor Exhibition of Large-Scale Artwork, which is located throughout the Boston Harbor Shipyard.
Craig's work, titled "fiddler," is among the selected artworks installed throughout the 14-acre industrial site of a working shipyard. The exhibit also will feature information about the Massachusetts Ocean Coalition and member organizations, highlighting their important environmental work on the Massachusetts Ocean Plan.
"My work points both inward to the inherent qualities of metal and outward to the constructed environment and to the history of the industrial age," Craig said.
"Fiddler" is part of a series of five large-scale fabricated steel sculptures by Craig that derive their form through the study of selected industrial and domestic objects.
"In this series, the abstract form of 'fiddler' retains the most recognition to a known thing while eliciting a specific range of other associations and representations," Craig added. "This range includes organic and inorganic objects both small and monumental. Color is a critical element, and the color was chosen to be as suggestive as the structure itself."
Juror Randi Hopkins, associate curator at the Institute of Contemporary Art in Boston, selected Craig's sculpture for the exhibit. For this first international outdoor exhibition of large-scale art, Hopkins chose 2D and 3D artworks by 25 artists from three continents, including works by renowned and emerging sculptors from New England.
Craig creates large-scale sculptures for public and private spaces. His work can be viewed in the collections of cities, museums, sculpture parks and universities. He actively participates in juried exhibitions throughout the United States. He received his MFA from Florida State University and BA from Eastern Illinois University.
The exhibition opens on Saturday, June 12, and the public is invited to visit and view the art installed at this unique industrial site of a working shipyard at the terminus of the HarborWalk.
"We are excited about enlivening the Boston waterfront with a vital new destination for arts and environmental stewardship," said Stephen Israel, founder of HarborArts. "We consider ourselves very lucky to be able to host all this great talent here."
HarborArts is a global community bringing people together to champion the vital role that our oceans, waterways and harbors play in the future of our planet. HarborArts uses public art and the Web to bring attention to issues and solutions that affect the quality of our harbors, waterways and oceans.
Its goal is to promote environmentally responsible solutions and creative new ways of living and working that respect our water resources. In addition, it aims to inspire individuals, corporations and communities to take action that will lead to solutions for these issues.