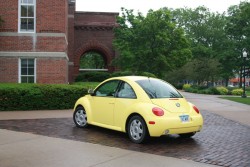 Maddie Levitt's Daisy parked on Maddie Levitt Lane.
Even before entering Old Main last Friday, you could tell it was Maddie Levitt Day. That's because Levitt's bright yellow VW bug named Daisy was parked in its customary spot on the wide sidewalk known as Maddie Levitt Lane on the west side of Drake's administrative headquarters.
Inside Old Main, faculty and staff gathered in Levitt Hall to share memories and favorite stories about Levitt, who served the University in myriad ways.
Levitt, who died in 2007 at the age of 82, was a longtime Drake trustee and the only woman in America to chair two consecutive fundraising campaigns of $100 million or more in the same decade for a U.S. college or university.
She also contributed nearly $10 million herself to the University. Most of all, she enjoyed interacting one-on-one with students while sitting in her special booth at the Drake Diner. To show her appreciation for faculty and staff, she established and funded annual awards to recognize Drake's most outstanding teachers and mentors.
This year's winners, Rachel Paine Caufield, associate professor of politics, and Carol Spaulding-Kruse, associate professor of English, spoke at the celebration.
Caufield said she loves teaching at Drake and that the Levitt Teacher of the Year Award is the biggest academic honor she has ever received and that she is truly humbled.
Spaulding-Kruse said the Levitt Mentor of the Year Award, which she won for the second time this year, was due in part to the high quality of the letters of recommendation submitted by her students. She noted that these students have honed their writing skills through her coaching and the community internship program that pairs student writers with nonprofit groups.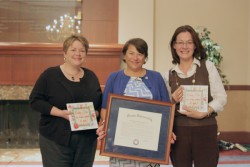 Rachel Paine Caufield, Suzie Glazer Burt and Carol Spaulding-Kruse hold plaques commemorating Maddie Levitt's spunk.
Levitt's daughter, Suzie Glazer Burt, also spoke at the celebration.
"Thank you from the bottom of my heart for celebrating my best friend
today," she said. "My Mom was all heart and whenever people thanked her
for her own gifts, she would say, 'Don't thank me, it is you who has
enriched my life.'
"She led by example and never asked anybody to do anything that she
wasn't prepared to do herself," Burt added. "Titles, positions or
wealth never impressed her. She judged people by their deeds and
qualities. To you in this room, she cherished your love, friendships
and encouragement more than you will ever know!"
Burt then presented identical ceramic plaques to Caufield and to
Spaulding-Kruse. Each featured brightly colored flowers and a signed
message in Levitt's handwriting that said, "Baby, I'm damn proud of
you!"
The celebration also featured Levitt's favorite breakfast foods,
including Krispy Kreme doughnuts and bacon cooked in brown sugar.