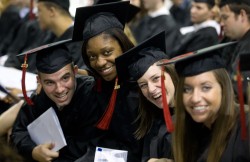 CONTACT: Tory Olson, 515-271-1834,
tory.olson@drake.edu
More than 1,400 undergraduate and graduate students celebrated
their commencement rites of passage at Drake University's graduation
ceremonies last weekend. Videos of the ceremonies are available for download on the Drake Telemedia Center's Web site.
Saturday's Drake Law School Commencement, which featured a keynote
speech by alumna Jane Lorentzen, president of the Iowa State Bar
Association, recognized 141 law graduates. In addition, more than 100
graduates in Drake's Professional Pharmacy Program were honored at the
annual Hooding Ceremony for Pharmacy Graduates.
A total of 730 seniors were recognized on Sunday at the
Undergraduate Commencement Ceremony, which featured keynote addresses
by:

During the ceremony, Oatts and Maxwell were joined by a rhythm section on stage for a surprise performance of a blues ballad. View a YouTube video of the presentation online.
Later that afternoon, graduate students collected their diplomas at
Drake's Commencement Ceremony for Graduate and Doctoral Degree
Recipients. Longtime Provost Ron Troyer, now senior counselor for
international initiatives, gave the keynote address.
Among the class of 2010, some students are continuing the Drake
family tradition, while others are paving the way for future Bulldogs.
As the caps and gowns were donned, one thing was clear for those
graduates: the Drake experience is a family affair. Here are some of
their stories.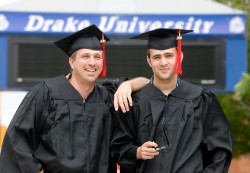 Joseph and Jeremy Scavo
Father to graduate with his son after 26 years at Drake
Graduation is a special time for parents, as they celebrate the
hard work and accomplishments of their children. This year, Drake
commencement was even more special for one father, who followed his son
across the stage after 26 years of dedicated learning and service to
the University.
Joseph Scavo, 47, and Jeremy Scavo, 22, of Grimes, Iowa, each
earned a bachelor's degree in radio/television production and graduated
Sunday. Their ties to Drake run deep, as Joseph has worked as a systems
administrator in the College of Pharmacy and Health Sciences for nearly
27 years.
"The thing about Drake is it is such an important part of my life
and for my children. Even seemingly personal events have some tie to a
lifetime of being at the University," said Joseph, who took classes
while not only working at Drake, but also single-parenting his four
children.
"Part of where I got my interest in photography is from playing in
Drake's TV truck as a little kid," said Jeremy, who works as a
freelancer and photographer for KCCI Channel 8. "Also, my dad would
bring home his books and I would play with his cameras, so in a way I
was learning from professors before I ever took their classes."
During their mutual four years at Drake, the Scavos said they
really did not see as much of one another as one might think, but they
did take a few classes together. When asked about that dynamic, Jeremy
jokingly replied: "It was fun, because it always kind of weirds the
professors out, and also because Dad takes more notes, but I usually
got the better grade."
Now the future looks bright for the two graduates, who plan to go
in different professional directions and will avoid competing for jobs.
Jeremy says he will continue his current photojournalism while pursuing
the possibility of graduate school, whereas Joseph intends to stay
close to home.
"I really don't know what I'll be when I grow up," Joseph joked, "I'll probably just continue to hang out at Drake."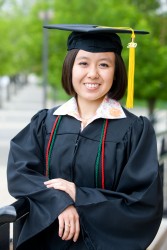 Xuan-An Nguyen
Vietnamese refugee becomes first in family to graduate from college
Drake's commencement was not only a time to celebrate individual
accomplishment, but also new family legacy for many students who became
the firsts in their families to graduate from college. For senior
Xuan-An Nguyen, originally of South Vietnam, this is just the case as
she overcame a family history riddled with war and poverty to cross the
stage with a Drake diploma.
From a young age, Nguyen was encouraged to pursue higher education
by her father, who graduated from high school in Vietnam but was not
able to attend college. Instead, he was required to join South
Vietnam's war effort and was then taken prisoner for seven years.
Following his release, the United States granted the Nguyen family
refugee rights. They settled in Sioux City, Iowa, when Nguyen was only
5 years old, in pursuit of a better life and education for the young
children.
"Where I lived in the Vietnam countryside, the landscape is pretty
and life is calm, but there is a wide separation of rich and poor,"
said Nguyen, who has visited Vietnam four times since immigrating to
the United States. "The currency is so spread out that people aren't
making enough to support their families."
Both Nguyen and her brother Nhut made education a priority under
the advisement of their late father, who died in 2007 during Nguyen's
first year at Drake. With the sustained support of her family, Nguyen
graduated with a bachelor's degree in biochemistry, cell and molecular
biology just as Nhut prepares to enter Drake's pre-pharmacy program
next fall.
In addition, Nguyen will continue her education even further by
attending Des Moines University for medical school this fall, with
plans to pursue a career in either geriatric or pediatric medicine.
"My dad was the source of my motivation to get a better education,
so it was hard to keep going when he died," Nguyen said, "but I know
he'd be proud of me if he were here today."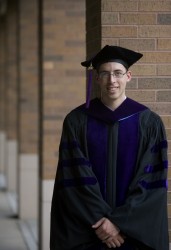 Philip De Koster
Law graduate to pave the way for future Drake law scholars
While many law graduates nationwide may be looking to recoup what they've spent to earn their degree, one Drake law student is already creating an opportunity through which he can give back. As he graduates, Opperman Scholar Philip De Koster is working to endow a scholarship for third-year Drake law students who are actively involved in mentoring fellow students.
"The purpose is to encourage law students to mentor other law students, which is something that has been important to me in my time at Drake," De Koster said. "Law school can be such an overwhelming experience, and having someone who can give honest advice and who cares about you as a person is really beneficial."
De Koster hopes to award the first scholarship, which will be named after his own mentor Dr. Kathleen M. Waggoner, who earned her law degree from Drake in 1987, on the next Supreme Court Day in March 2011. Drake law faculty members will select the recipient, based on the activities nominees have undertaken to mentor other students.
As a recipient of the Dwight D. Opperman Scholarship, De Koster received full-tuition as well as $10,000 per year to finance his Drake Law School education. Rather than keep all he earned for himself, De Koster is using part of his gifts to create the new award.
"I've been very fortunate to have received an Opperman Scholarship, which led to a clerkship at a firm, which led to a job," said De Koster, who will be working for LaMarca and Landry, P.C. practicing in business litigation and estate planning. "Recognizing what Mr. Opperman did made me conscious of the importance of giving back, and I thought, 'I can always use cash, but I can do something better with this.'"
De Koster's inspiration also comes from his family roots. A third-generation lawyer of Hull, Iowa, he was taught the value of paying forward what he's been given to move others to do the same.
"One vivid memory I have is my father coming home with cookies from a client, because the client couldn't afford to pay him but wanted to give something," De Koster said. "My father would've done it without the cookies, because he recognized that while we weren't rich, we had enough, and other people didn't have as much."
"Both my father and grandfather helped me recognize the difference a good lawyer can make in people's lives. Giving back to the community, the school and other things that have provided opportunities is just something you do. In my mind, it's not optional."