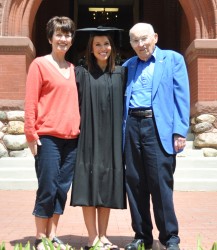 Holly Morrison Dierks, Abby Dierks and Paul Morrison.
One family that is without a doubt true blue saw its ninth Drake University graduate cross the stage today among 730 undergraduates, wearing a gown that's been around for more than a century.
Senior Abby Dierks, of Granger, Iowa, graduated at Drake's Undergraduate Commencement Ceremony this morning, sporting a family graduation gown that made its debut when her great grandmother, Leonta Starzinger Morrison graduated from Drake in 1906.
To date, the garment has been worn by a member of the Morrison clan in every decade since the 1930s, last appearing on Dierks' cousin and Drake alumnus Phillip Longman in 2006.
"Graduation was extra special because I was accompanied by years of history," said Dierks, who will received a bachelor's degree in psychology. "It is a reminder of all of the hard work my family has accomplished. It's very inspiring to think about all of their lives and how they connect with my own."
Other Drake alumni who have worn the gown include Dierks' grandfather and longtime Bulldog athletics historian Paul Morrison (1939) and her mother, Holly Morrison Dierks (1976).
"I am proud that Abby is carrying on this wonderful family tradition," Morrison said. "Both my mother and father graduated in 1906 and we have been a true blue Drake family ever since."
In total, the gown has appeared at 15 college graduations at Drake, the University of Iowa, Coe College, Bradley University, the University of Michigan, Culver-Stockton College and the former Phillips University.