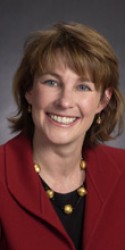 Jane Lorentzen
Drake University Law School will honor 141 graduates at its commencement ceremony at 7 p.m. Saturday, May 15, at the Drake Knapp Center, 2601 Forest Ave.
Jane Lorentzen, president of the Iowa State Bar Association and a 1991 graduate of Drake Law School, will give the commencement address, which is titled "A Time to Lead."
The ceremony will be preceded at 6:45 p.m. by a formal procession of law students and faculty wearing academic regalia to the Drake Knapp Center from Opperman Hall and Law Library. A bagpiper will lead the procession.
Following graduation from Drake Law School, where she received the Martin Tollefson Award, Lorentzen was admitted to the Iowa Bar, the United States District Court for the Southern District of Iowa and the United States District Court for the Northern District of Iowa in 1991.
An expert in the areas of workers' compensation and litigation, Lorentzen practices with Hopkins & Huebner P.C. in Des Moines.
She has been active in the Iowa State Bar Association, serving as president-elect in 2008-09 and vice president in 2007-08. In addition, she has been a member of the Polk Country Bar Association Board of Directors since 2001.
Lorentzen frequently speaks on issues of judicial independence and workers' compensation. She also is secretary of the Des Moines West Side Chamber of Commerce, a member of the Board of Counselors of Drake Law School and a member of the Board of Directors of Bishop Drumm Retirement Center.
For more information about the commencement ceremony, call 515-271-2057. A reception for graduates and their guests will follow in Drake's Parents Hall in Olmsted Center, 2875 University Ave.