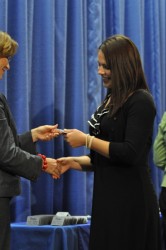 Denise Soltis presents Nicole Heibel with a nametag.
More
than 100 third-year health sciences and professional pharmacy students
took part in the College of Pharmacy and Health Sciences Graduate
Seminar and Recognition Ceremony, marking their rites of passage into
the advanced portion of their careers.
The event, which featured
presentations on professional etiquette, interview techniques and
capstone and rotation experience expectations, took place on May 6. Students received a pin and professional nametag to commemorate the beginning of their senior capstone experiences.
"Collaborative
learning is not limited to the classroom," said Dean Raylene Rospond,
who spoke to students about the importance of their rotation and
capstone experiences. "
"These capstones will be wide and
varied, but each will provide valuable learning and allow each of your
to demonstrate and hone your knowledge, skills and attitudes, while
demonstrating your achievement of the educational objectives of your
individual academic programs."
The ceremony also included an
award presentation, which featured the first Lon Larson Engaged
Practitioner Award, which was given to Tori Erxleben from Arlington
Heights, Ill. She has been active in various professional pharmacy
groups at Drake including:

• American Society of Health System Pharmacists

• APhA-ASP President and member of a national committee

• Drake University Pharmacy Unified Group of Students

• Iowa Pharmacy Association

• Phi Lambda Sigma
"In
all of these organizations, she has served in a leadership role for a
number of new initiatives," Rospond said. "Her reflection, action and
unswerving dedication to identifying problems, presenting solutions and
to further developing the experiences of younger only captures a
glimpse of the qualities that Tori displays that embody the spirit of
Dr. Lon Larson."
The Larson Award was established in memory of the Ellis and Nelle Levitt professor of pharmacy administration, who died May 8, 2009, after a three-year battle with cancer.
Kristen
Klimas of Arlington Heights, Ill., received the Health Sciences Student
Organization's Outstanding Health Sciences Student Award. "Kristen
worked to improve meeting attendance and to develop varied activities
for the Health Sciences Organization," said Renae Chesnut, associate
professor of pharmacy practice and the college's associate dean for
academic and student affairs.
Another award — the Excellence
in Public Health Pharmacy Practice Award from the United States Public
Health Service — was presented to Andrew Roberts of Lees Summit, Mo.
Roberts worked as one of two students in an internship with Iowa Sen.
Jack Hatch, a Drake alumnus, on a number of proposals to improve
opportunities for members of our society with regard to their
medications.
Health sciences major Scott Gleason of
Fairfield, Iowa, was also recognized during the ceremony for his
acceptance into Des Moines University's Doctor of Osteopathic Medicine
program. "This recognition speaks to Scott's academic and professional
accomplishments as well as the opportunities that were provided to him
through the Health Sciences curriculum," Chesnut said. "We are
confident that Scott will provide a smooth path for other Drake Health
Sciences students to follow into DMU's medical school."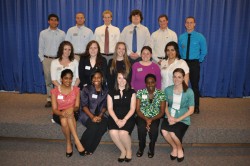 The first groups of Drake health sciences students to enter their senior capstone experience.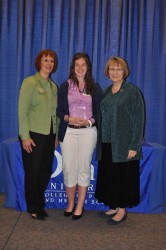 Dean Raylene Rospond, left, and Linda Krypel, right, congratulate Tori Erxleben on the Lon Larson Engaged Practitioner Award.