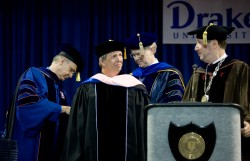 Drake officials present Dick Oatts, second from left, with a hood symbolizing his honorary Doctor of Music degree.
Drake University today awarded an honorary Doctor of Music degree to renowned jazz saxophonist Dick Oatts.
Oatts, professor of jazz studies at Boyer College of Music and
Dance at Temple University in Philadelphia, has led a successful career
as a professional jazz saxophonist for more than 30 years. He has
performed with prestigious jazz orchestras, accompanied popular
vocalists and groups and released nine CDs to date.
After attending Drake University as a flute major and clarinet
minor, Oatts decided to pursue professional performance opportunities
in the Twin Cities in 1972. He moved to New York City in 1977, where he
became a member of the Thad Jones – Mel Lewis Orchestra.
Oatts went on to record and tour with small groups and perform with
larger groups including the Vanguard Jazz Orchestra, Carnegie Hall Jazz
Band and Tito Puente. He has been featured with prestigious big bands
and jazz orchestras around the world, and has accompanied such
vocalists as Sarah Vaughn, Ella Fitzgerald and Mel Torme. In addition,
Oatts recorded solos for pop artists Luther Vandross, James Taylor and
Everything But the Girl.
His musical artistry has been featured on dozens of albums and CDs,
including three as a leader on the DMP label, five as a Steeplechase
recording artist and a new release on the RED label titled "Meru."
Oatts' album, titled "Gratitude," was named one of the top 10 best jazz
CDs of 2008 by National Public Radio.
Oatts, the son of respected jazz educator and saxophonist Jack
Oatts, was raised in a musical family in Jefferson, Iowa. Maintaining
ties to Drake and Iowa over the decades, he last returned to campus for
a concert with Drake Jazz Ensemble One and the Des Moines Big Band in
2005.
After accepting his honorary Drake degree, Oatts will address
Drake's 730 undergraduate degree recipients, who also will hear from
Drake President David Maxwell and Kyle Lewandowski, winner of the
University's Oreon E. Scott Outstanding Senior of the Year Award.
On Friday afternoon, Oatts conducted a master class for Drake
students. He also will perform Monday, May 17, with the Des Moines Big
Band, which plays from 6:30 to 9:30 p.m. at the Adventureland Inn, 3200
Adventureland Drive in Altoona. Admission is $5 for adults, $4 for
students.