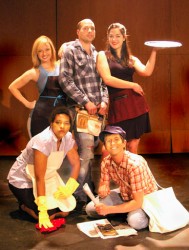 The final performance of Drake University Theatre's production of "Working," a musical based on the 1974 non-fiction book by Studs Terkel, is set for 8 p.m. Saturday, May 15, at First Unitarian Church, 1800 Bell Ave.
The play, which debuted on Broadway in 1978 and was updated for regional theatre in 1999, features a cast of Drake musical theatre students.
Karla Kash, assistant professor of theatre at Drake, is director and choreographer of the production, and Bruce Martin, Drake professor emeritus of English, serves as music director. The musical is produced in conjunction with the Stagewest Theatre Company and A Mid-Iowa Organizing Strategy (AMOS).
Proceeds from the event will go to benefit AMOS, a local Industrial Areas Foundation comprised of over 25 community institutions.
The musical chronicles a day in the life of 26 average American
workers, including an ironworker, a waitress, a stonemason, a trucker,
a housewife, a UPS deliveryman, a teacher, a mill worker and a retiree.
The characters perform monologues derived from interviews with
actual workers in which they describe their daily routines and discuss
their hopes and aspirations.
A review of the production is posted online.
General admission tickets cost $20 and Drake students and faculty may purchase tickets for $10 with a Drake I.D. Tickets are available for purchase online at MidwestTix.
For more information, contact Karla Kash at karla.kash@drake.edu or at 515-271-2897.