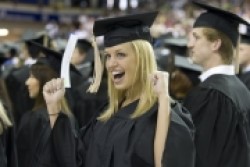 Drake University will celebrate a total of 1,421 undergraduate, graduate and doctoral degree recipients at its 2010 commencement ceremonies, set for Saturday, May 15, and Sunday, May 16, in the Drake Knapp Center, 2525 Forest Ave.
The schedule is listed below:

Saturday, May 15 — Hooding Ceremony for Pharmacy Graduates, 4 p.m., 103 recipients
Saturday, May 15 — Drake Law School Commencement, 7 p.m., 141 recipients, with the commencement address by Law School alumna Jane Lorentzen, president of the Iowa State Bar Association and an attorney with Hopkins & Huebner PC in Des Moines
Sunday, May 16 — The 129th Commencement Ceremony for Undergraduate Degree Recipients, 10 a.m., 730 recipients, with commencement addresses presented by Drake President David Maxwell, honorary degree recipient and renowned jazz saxophonist Dick Oatts and Kyle Lewandowski, winner of the 2010 Oreon E. Scott Outstanding Senior Award
Sunday, May 16 — The 129th Commencement Ceremony for Graduate and Doctoral Degree Recipients, 2 p.m., 684 recipients, including 134 pharmacy graduates, with the commencement address presented by former provost Ron Troyer, now senior counselor for international initiatives at Drake
President Maxwell and First Lady Madeleine Maxwell also will host the President's Reception for all graduates and their families from 4:30 p.m. to 6 p.m. on Saturday, May 15, in Parents Hall at Olmsted Center, 2875 University Ave. There is no charge and the attire is dress casual.
In addition, a commencement lunch will be held from 11:30 a.m. to 1:30 p.m. Sunday, May 16, in Hubbell Dining Hall, 1315 30th St. Tickets are $5.75 in advance or $6.75 at the door. Students may use their meal cards.
For more information about commencement activities, visit the Drake Web site or call 1-800-443-7253 or 515-271-3093 or 515-271-3901.