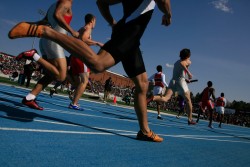 Drake University is hosting an estimated 7,227 track and field athletes as they gather to compete in America's Athletic Classic in the four-day Drake Relays meet.
Athletes and teams from colleges and universities from all over the United States are taking part in the 101st running of the Drake Relays that began Wednesday and continues through Saturday at Drake Stadium. Competing are 115 men's university-college teams with 1,242 male athletes and 109 women's teams with 1,164 female athletes.
Track and field athletes from 58 foreign countries, which account for 315 of the competing athletes, also are competing in the meet. This group includes 57 from Canada, 39 from Jamaica and 32 from Kenya.
In the high school boys division, 889 athletes have entered the Drake Relays from 170 schools. In the high school girls division, 171 teams are sending 800 athletes. There will also be 420 grade school and middle school athletes representing 59 teams from the greater Des Moines area.
In addition, there will be 212 unattached athletes competing — 126 men and 86 women – and the annual Drake Relays Road Race on Saturday, April 24, will draw an estimated 2,500 runners.
More about Drake Relays, special events
For more information on Drake Relays track and field events and meet times, visit the Web site. Ticket packages are available and the cost for adults is $85. For more information or to buy tickets, visit www.godrakebulldogs.com or call 515-271-3647.
A detailed schedule of upcoming Relays and special events, which are free and open to the public (unless noted), is listed below:



Friday, April 23

Drake Relays, 8 a.m. to 4:25 p.m., Drake Stadium
"Relays Under the Lights," 5:30 to 8:45 p.m., Drake Stadium
Court Avenue Relays Celebration, 7 p.m. to 1 a.m., Fourth Street and Court Avenue, downtown Des Moines
Saturday, April 24

42nd Annual Drake Relays On the Road Race, 8 a.m. start for 8 kilometer and half-marathon races. Route information is available online.
Drake Relays, 8 a.m. to 6 p.m., Drake Stadium