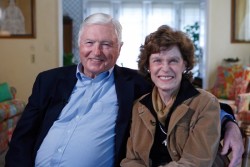 Franklin and Catherine Johnson
CONTACT: Lisa Lacher, 515-271-3119, lisa.lacher@drake.edu; Tory Olson, 515-271-1834, tory.olson@drake.edu
Drake University has announced that Franklin "Pitch" Johnson Jr. and his wife, Catherine, have made a $2 million commitment to endow and establish the Franklin P. Johnson Director of the Drake Relays.
The new position will honor the memory of Pitch Johnson Sr., who served as head track and field coach at Drake from 1928 to 1940 and Relays director from 1933 to 1940. During his tenure, Johnson put Drake track and field on the map and ensured that the Relays continued to thrive and grow during the upheaval of the Great Depression.
In addition to the $2 million endowment, the Johnsons contributed to the recent renovation of Drake Stadium.
Their latest gift will be used to enhance the Relays, attract outstanding track and field athletes and strengthen the competitiveness of Drake's track and field program.
Brian Brown, Drake Relays director since 2005, will be the inaugural holder of the position.
"It is an honor and privilege to be named as the first-ever Franklin P. Johnson Director of the Drake Relays," Brown said. "I believe the Drake Relays is one of the greatest track and field events in the world. It is fitting that in the future this position will forever hold the name of Pitch Johnson because of what he meant to the Relays and the Drake track and field program."
Johnson said that in addition to honoring the memory and legacy of his father, this gift recognizes his own personal connection to Drake, the Relays and Des Moines.
"I spent my first 12 years in Des Moines and a lot of time on Drake's campus," said Johnson, 81, a resident of Palo Alto, Calif., and a venture capital pioneer in Silicon Valley.
"I grew up with the Drake Relays. Drake was my dad's first major coaching job and he performed very well. Cathie and I are delighted to be able to honor him and to establish this endowment that will provide additional resources to help the Relays director."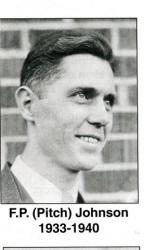 Under the elder Johnson's guidance, the Bulldogs earned 10 team
conference championships in track and field, won 30 individual Missouri
Valley Conference titles and finished third (1938) and fourth (1939) in
the first two years of the NCAA Cross Country Championships. Johnson
Sr. ended his coaching career at Stanford University as head track and
field coach from 1940 to 1943. He was inducted into the Track and Field
Coaches and Cross Country Coaches Hall of Fame in 2009, and was a
member of the United States Olympic team, as a 110-meter hurdler, in
Paris in 1924.
"We are grateful for this generous gift, which illustrates confidence
in Drake University, and in the Drake Relays as our signature athletic
event," Drake President David Maxwell said. "A strong endowment is
vital to the future of the entire University and this endowment fund
will provide resources to enhance the stature of the Relays within the
national and international athletic communities."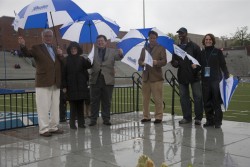 From left: The Johnsons with their sons, Franklin L. and Reid, Brian Brown and Sandy Hatfield Clubb at Friday's opening ceremony.
The Johnson family was recognized at the Drake Relays opening ceremony Friday and will be honored at the opening ceremony at
11:50 a.m. Saturday, April 24, in Drake
Stadium.
There will be a special installation ceremony at 4:30 p.m. Friday in
the Cowles Library Reading Room, 2725 University Ave. Drake President
David and Madeleine Maxwell, Board of Trustees members, Drake Athletic
Director Sandy Hatfield Clubb, alumni, students, faculty and staff will
be present in addition to the new Franklin P. Johnson Director of the
Drake Relays, Brian Brown.
"This gift is of vital importance because it serves as a catalyst for
building momentum for continuous improvement of both the Relays and
Drake's track and field program," Hatfield Clubb said.
Johnson said his father loved the sport in which "people run, jump and
throw things" so much that he was able to draw support from local Des
Moines businesses through his Herculean efforts to keep Relays going
and prospering during the Great Depression.
"My father was able to keep the local business community interested,
attract top athletes and keep attendance up," Johnson added. "He, with
a lot from the people of Des Moines, kept the Relays going in the
nation's most difficult economic period."
A track athlete through his college years at Stanford University,
Johnson said his father taught him about sportsmanship and winning with
integrity.
"My dad taught me two important two things when I was an active
athlete. He emphasized winning first, but with good sportsmanship and
fairness," said Johnson, who competed in the Drake Relays shuttle relay
event as a sixth grader representing Elmwood School in the Drake
Neighborhood. As with many athletes, that guidance has served me well
in my later life."
Johnson said he continues to interact with athletes his dad coached at
Drake and Stanford. "Those men are in their late 80s or 90s now, and I
hear from some of them from time to time," he added. "They still
express their appreciation and admiration for my father."
As Johnson Sr. once ensured the continued success of the Drake Relays,
the Johnsons have guaranteed the rich tradition and quality of the
Drake Relays will carry on for generations to come.
"We are pleased to be able to do this," Johnson said. "I'm impressed by
the quality of the Relays Director Brian Brown and the present track
and field coaches at Drake. It is a high-quality program, and we are
thrilled to be able to help this wonderful program at Drake."