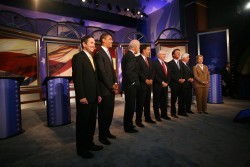 All eight candidates share the stage in Shelsow Auditorium at the 2007 Democratic debate.
The Republican and Democratic presidential debates hosted by Drake University in the summer of 2007 and aired nationwide on the ABC network are featured in a new documentary, "First Stop, Iowa: How One Small State Came to Have a Very Big Say in Who Becomes President of the United States."
Nine candidates shared the Jordan Stage in Drake's Sheslow Auditorium during the Republican debate on Aug. 5, 2007. The stage was filled again on Aug. 19, 2007, for the Democratic debate, which included all eight candidates.
At both debates, Drake President David Maxwell proudly reminded the audience of Drake University's unique role in American democracy. He said Drake serves as "a community and culture that fiercely protects and encourages the unfettered and free ideas of perspectives … that encourages the examination of competing ideas in search of even greater knowledge."
"First Stop, Iowa" opens at 7:30 p.m. today and runs through Thursday, April 29, at the Varsity Theater, 1207 25th St.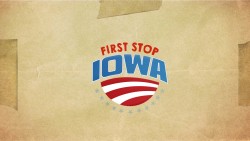 The documentary provides a history of grassroots presidential politics
spanning 1968-2008, with a focus on the caucuses and the important role
Iowa plays.
It traces the reforms ordered by the 1968 Democratic National
Convention and covers a wide range of candidates from Sen. George
McGovern to Vice President Joe Biden and former Iowa Gov. Tom Vilsack.
Also featured

are Iowa journalists, campaign workers and volunteers.
"We were at Drake for the Aug. 2007 debates and the campus is
featured prominently in that scene," said John Barron, who wrote and
produced the documentary, which was directed by his wife, Rebecca
Glenn.
Barron, who will be in Des Moines for the premiere of the
documentary, presents a daily news and interview program on ABC
NewsRadio, Australia. He also is a research associate at the United
States Studies Centre at the University of Sydney and has written a
book titled "Vote For Me: The Long Road to the White House."