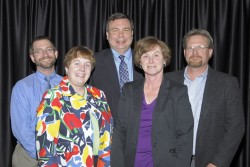 From left: Keith Summerville, Carole Tillotson, MWA Executive Director Tom Hadden, Jolene Schmidt and Mark Chambers at the awards ceremony.
Drake University is among four organizations and three individuals recognized by the Metro Waste Authority for their efforts to improve the environment.
Drake was honored as a 2010 Environmental Stewardship Award winner
on Wednesday, April 21, at Metro Waste Authority's annual dinner at the
Prairie Meadows Event Center in Altoona.
The University was selected for renewing its sustainability commitment through the Blue is Green initiative — engaging the campus community in a wide variety of responsible best practices for the environment.
Four members of Drake's Sustainability Committee represented the University at the awards ceremony:

Mark Chambers, director of facility services
Jolene Schmidt, director of operations and support services
Keith Summerville, associate professor of environmental science and associate dean of the College of Arts and Sciences
Carole Tillotson, assistant director of career services at Drake Law School
Metro Waste Authority created the Environmental Stewardship Awards
eight years ago as a way to recognize organizations and individuals in
central Iowa who are leaders in developing, implementing and promoting
practices that encourage environmental sustainability.
"In a time when green washing is becoming more prevalent, MWA is
proud to honor companies and individuals who are truly making an
improvement in our world by recycling, waste reduction, conservation
and the efficient use of resources," said MWA Executive Director Tom
Hadden. "Each one of the award winners has demonstrated an outstanding
commitment to the environment and quality of life in central Iowa."
The other award winners are:

Iowa Health System – for demonstrating an environmental
commitment to employees, business partners and the community and, in
doing so, helping to change the local marketplace for green business.
Wells Fargo – for empowering its workforce to pursue environmental stewardship initiatives at work and in the community.
Pioneer
Hi-Bred, a DuPont business – for following the corporate sustainability
plan to reduce waste, conserve resources and save energy on the
Johnston campus.
Robin Fortney – for sharing her passion and
leadership skills to advocate for ongoing prairie restoration projects
and stewardship of Iowa rivers.
Mary Burton – for playing a
key role in ensuring environmental integrity as a Metro Waste Authority
Board member and spearheading recycling and waste solutions as mayor of
Polk City.
Megan Reuther – for keeping Central Iowans
abreast of environmental challenges and opportunities through her
weekly "Renew Iowa" segments on WHO-TV.
Metro Waste Authority works to protect the natural habitat and
water quality not only on our properties but also throughout central
Iowa. This organization's commitment to the environment was born
through its landfill operations and the need to protect our
groundwater.