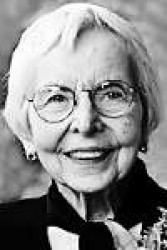 Bonnie Compton McNurlen
Bonnie Compton McNurlen, who earned six academic degrees from Drake, died Thursday, April 15, in her sleep at the age of 84.
A memorial service was held Friday, April 23, at Hamilton's Funeral Home in West Des Moines.
When asked why she earned so many academic degrees for a 1988 article in Drake's alumni publication, McNurlen laughed and said, "I enjoy going to school — that's my problem."
Then, seriously, she added: "Each degree has enabled me to pursue a different career area. It's all been for a purpose."
She earned her first, a bachelor's degree in music, in 1948. Then came a master's degree in music (1949), a bachelor's degree in music education (1966), a master of science in teaching (1970), a master's degree in education (1985) and a doctor of education in counseling (1988).
She first used her education in music to teach piano. Then she became a part-time elementary music teacher for Des Moines Public Schools. Eventually, she decided to expand her skills by earning a master of science degree in teaching, which lead to a full-time position teaching language arts.
She began courses for her degrees in counseling after she and her husband, Lew, a two-time Drake graduate and professor emeritus of sociology, retired in 1985.
Over her lifetime, she was involved with the Drake Alumni Association, Mu Phi Epsilon, Civic Music Association, Prairie Club, yoga classes and Self-Realization Fellowship.
Deputy Provost Sue Wright, who taught sociology for many years in the same department as Lew McNurlen, described Bonnie as "always upbeat and enthusiastic."
Wright noted that "She would greet everyone with enthusiasm and open arms and an 'Oh, how are you?! ' She was a warm, sweet, supportive person who adored her husband and children.
"She also was known for being musical and for being able to play many different instruments," Wright added. "In fact, the impression was, and some have said it is true, that she had an instrument under every piece of furniture — violins, flutes and who knows what else? And, of course, there was a grand piano."
Ron Troyer, senior counselor for international initiatives and former provost, recalled that "Bonnie was a strong supporter of students and greatly
enjoyed meeting, talking to and encouraging those enrolled at Drake. Indeed, Lew and Bonnie provided funds for student scholarships and
underwrote the annual outstanding sociology student award. Further, Bonnie and Lew were strong supporters of
Drake University and great ambassadors to the community."
"Bonnie was one powerful person," added Don Adams, retired vice president of enrollment and student life. "She loved teaching and she loved learning. She and her husband were the perfect match. Lew was such a popular professor and Bonnie couldn't resist a learning opportunity or a fun time at a Drake event. She was so enthusiastic about life and was such a joy to be around."
A native of Van Meter, Iowa, McNurlen grew up in West Des Moines and graduated from Valley High School. She met and married her husband, Lew, while attending Drake University.
Survivors include her daughter, Carolyn Rogers, her son, Bob, and granddaughters Joanna and Maria McNurlen.
Memorial contributions may be made to the Compton-McNurlen Scholarship Fund at Drake University or the Des Moines Symphony.