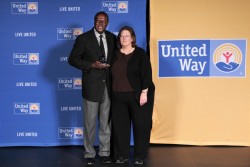 Dolph Pulliam and Jeannie Nelson pose for a photo with Drake's award.
Drake University was honored with a 2010 United Way LIVE UNITED volunteer award at the Live United awards ceremony, held this week at The Meadows at Prairie Meadows Racetrack and Casino in Altoona.
United Way judges recognized Drake for its organizational commitment to volunteer service and community-wide involvement, as well as the University's Student United Way organization — one of the strongest in the nation.
"This award is a testament to who we are as a university and how much we give back to the community," said Dolph Pulliam, Drake director of community outreach and development. "The time and talents that our students, faculty and staff devote to the community are greatly appreciated."
Pulliam and his administrative assistant, Jeannie Nielsen, accepted the award on behalf of Drake from Drake Athletic Director Sandy Hatfield Clubb, a member of the United Way Board of Directors.
In 2009, Drake sponsored myriad volunteer activities for the campus and community, which included packaging thousands of meals for Meals from the Heartland, building a house for Habitat for Humanity and raising awareness for homelessness through Reggie's Sleepout.



The University also hosted campus-wide drives to provide for the needy in Des Moines, through which students, faculty and staff donated more than 300 holiday gifts to local children, filled hundreds of food baskets and provided mittens, hats and gloves to local schools.
In addition, Drake faculty and staff members engage in individual volunteer efforts through numerous Des Moines area boards and councils, as well as serving in local schools, community shelters and charitable foundations.
Faculty and staff also contribute to United Way each year through the Drake Charitable Giving Campaign. Last year, 156 faculty and staff members gave more than $40,000 to United Way.