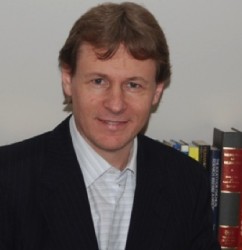 The future of philosophy of religion will be the topic for a lecture at Drake University by philosopher Wesley J. Wildman, of Boston University, on Thursday, April 22.
The lecture, titled "Imagining a Future for a Philosophy of Religion," will begin at 7 p.m. in the Honors Lounge of Medbury Hall, 2730 Forest Ave.
Wildman will contend that while the philosophy of religion is prominent at faith-based institutions, the discipline is disappearing from secular settings. He explains this is partly because philosophy of religion seems associated more with the vested interests of religious institutions than with the core mission of modern humanities research and education.
In response to this trend, Wildman will discuss ways in which universities can support the philosophy of religion without the influence of religious bias, while accounting for relevant university disciplines, incorporating the variety of world religious traditions and contributing to the wider culture.
Wildman is associate professor of philosophy, theology, and ethics at Boston University's School of Theology and convener of the Graduate School's doctoral program in religion and science.
The author and editor of several books, Wildman exhibits a multidisciplinary approach to religious and theological studies, and has lectured in many parts of the world. He is a founder of the Institute for the Biocultural Study of Religion, a research institute devoted to the scientific study of religion, including religious and spiritual experiences.
The lecture, which is the fourth in a series about philosophy of religion, is sponsored by the Drake Center for the Humanities, the Department of Philosophy and Religion, the Center for Global Citizenship, the Honors Program and the College of Arts and Sciences.
For more information, contact Tim Knepper, associate professor of philosophy, at 515-271-2167 or tim.knepper@drake.edu.