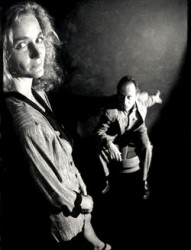 The Lisa Fay and Jeff Glassman Performance Duo
CONTACT: Lisa Lacher, 515-271-3119, lisa.lacher@drake.edu
The Lisa Fay and Jeff Glassman Performance Duo will present several short experimental movement theater pieces at Drake University on Tuesday, March 23.
Fay and Glassman invent systems for organizing movement and speech in theater, similar to how new systems for organizing sound have been invented for composing music. They compose and perform movement-based theatre art that applies complex composed structures to ordinary human behavior, often with satire and pointed humor.
Their performance will begin at 7:30 p.m. in the Performing Arts Hall of Harmon Fine Arts Center, 2505 Carpenter Ave. Drake University's Department of Art and Design is sponsoring the event, which is free and open to the public.
The duo works to invent systems for organizing movement and speech in theatre, in a way similar to systems for organizing sound to compose music. Productions are often accompanied by notated movement scores, graphic representations that let performers move from mental images to stage action.



"Quartet for Six Stories," (a work in progress)
Fay and Glassman's "Quartet for Six Stories," (a work in progress), is a 3D grid for score structure that traces four actors' one-way paths through six scenes. Each scene is a color, each 90-degree turn is a pivot and each axis direction is a story. The score and structure for Quartet is derived from the process.
The duo formed in 1991 and has performed movement-based theatre works in tours across the United States, Eastern and Western Europe, Mexico, Cuba and South Korea.
They also have performed in international theatre festivals in the United States and abroad, including the Copenhagen International Theatre Festival, the seminal First International Mime Institute and Festival and the Gathering of Alternative Theatres.
The duo has received Artist Fellowships for original movement-based theatre from the Illinois Arts Council and a National Endowment for the Arts Choreography Fellowship for experimental movement theatre.
As working artists, Fay and Glassman have served the Illinois Arts Council, the Alliance for Cultural Democracy and the City Arts Task Force of Urbana, Ill. They are currently an active member company of the Network of Ensemble Theatres.
For more information, contact Lenore Metrick-Chen, Drake associate professor of art history, at 515-271-3801 or lenore.metrick-chen@drake.edu.