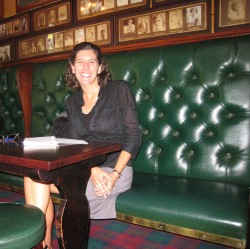 Klimaszewski at the Lamb, a local establishment favored by Charles Dickens.
Melisa Klimaszewski, assistant professor of English at Drake University, traveled abroad to deliver a seminar, "Rethinking the Collaborative Dickens," this week at the University of Leicester in England.
She was invited to present the seminar as part of a spring series at the university's Victorian Studies Centre, the longest established Victorian Studies Centre in Britain. Klimaszewski is only the second international scholar who has been invited to present research at the Centre in the last eight years.
"Rethinking the Collaborative Dickens" is focused on Charles Dickens' Christmas numbers, which were special issues of his periodicals "Household Words" and "All the Year Round," published annually from 1850-1867. The numbers included solicited stories and poems from friends and colleagues, but only Dickens was credited in publication.
"Most discussions of Dickens' collaborative work have focused solely on hierarchical power dynamics," Klimaszewski said. "They cast Dickens as an oppressive editor either denying authorial credit to his collaborators or whose collaborators subversively resisted his authority through the narrators of their uncredited contributions."
"My current exploration of the collaborative Christmas numbers attempts to break out of such binaries by focusing on the complicated intertextual dynamics of the numbers and the ways in which Dickens' voice actually becomes a multiplicity of voices," she added.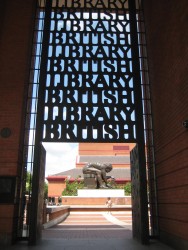 The British Library gates
Until recently, reprints of the Christmas numbers included only those
stories written by Dickens. However, since 2005, Klimaszewski has
worked with Hesperus Press in the United Kingdom to restore Dickens'
collaborative Christmas numbers to print in their entirety.
She has edited or co-edited six such texts for publication,
restoring the texts to print in their entirety for the first time since
the mid-19th century.
During the trip, Klimaszewski also will continue her research at the British Library to further her work on multiple scholarly articles that offer new analyses of the Dickens' collaborations and reexamine the significance of the form.
She previously participated in the "The Victorians and Architecture" workshop at Cambridge University in England in July 2009. She also presented a paper, "Dickens' Collaborative Voices" at the "Dickens and the Voices of Victorian Culture" conference at the University of Verona in Italy in June 2009.
Klimaszewski holds a doctorate and master's degree in literature from the University of California, San Diego. She received her bachelor's degree in English and Spanish from the University of Michigan.