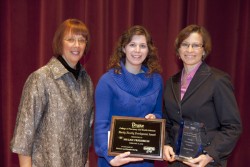 Left to right: Dean Raylene Rospond, Megan Friedrich and Denise Soltis.
CONTACT: Tory Olson. 515-271-1834, tory.olson@drake.edu
Drake University professors Denise Soltis and Megan Friedrich were recently honored at Drake's annual Pharmacy and Health Sciences Day with awards recognizing their outstanding accomplishments.
Soltis was presented with the Hartig Distinguished Professor Award and Friedrich accepted the Hartig Faculty Development Award in Drake's Sheslow Auditorium.
The Hartig Distinguished Professor Award recognizes a pharmacy faculty member who has distinguished himself or herself in teaching, scholarship, service or practice during the previous academic year. Specific emphasis is given to accomplishments that demonstrate uniqueness, innovation and creativity. The award winner receives a crystal award and an honorarium.
The Hartig Faculty Development Award and program supports a faculty member's development activities that educate, encourage and enhance entrepreneurialism in community pharmacy practice or ownership.
Soltis has served on Drake's faculty since 1998 and Friedrich has been a faculty member since 2008. Both professors have established themselves as respected teachers and accomplished scholars within the College of Pharmacy and Health Sciences.
Soltis, who also received the Hartig Faculty Development Award in 2006, earned a bachelor's degree in pharmacy from Butler University. She is assistant dean for clinical affairs and assistant professor of pharmacy practice at Drake and is a member of the College of Pharmacy and Health Sciences Administrative Committee, Academic Affairs Committee and Experiential Review Committee.
She also is a founding member of the District V Experiential Workgroup — a group comprised of experiential education faculty within the member NABP District V Colleges. The group developed a comprehensive quality assurance program for experiential sites that has been implemented at numerous institutions, including Drake.
Soltis is also involved with professional pharmacy organizations such as the Iowa Pharmacy Association (IPA) and the American Association of Colleges of Pharmacy, among others. She has collaborated with the University of Iowa and the IPA to create the Collaborative Education Institute and a preceptor development program applied to college curriculums nationwide.
Friedrich, assistant professor of pharmacy practice, is a pharmacist at Medicap Pharmacy in Des Moines. Friedrich also received the Hartig Faculty Development Award in 2007.
She has been an active member of several professional pharmaceutical organizations, including the American Pharmacist Association, the American Society of Health-System Pharmacists, the American College of Clinical Pharmacy and the Iowa Pharmacy Association.
Friedrich earned her bachelor's degree in chemistry from the University of Illinois in 2002. She received her pharmacy degree from the University of Wisconsin Madison in 2006 and completed a post-graduate residency with Midwestern University and Osco Community Pharmacies.



Hartig: loyal alumnus committed to education
Both awards are supported by the Hartig Pharmacy Fund for Drake's College of Pharmacy and Health Sciences. Richard Hartig, a 1973 pharmacy graduate who received a master's degree in 1981, and his wife, Brenda, established the fund in 2002.
Hartig Drug Stores is America's second oldest continuously operated family drug chain, caring for customers in three states for more than 100 years through traditional drug stores, a long-term care pharmacy, Finley-Hartig Homecare and hospital partnerships. For more information, visit www.hartigdrug.com.