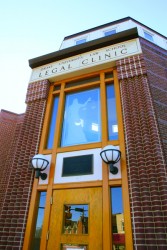 The state's highest court will hear two cases in the courtroom of the Neal and Bea Smith Law Center.
The Iowa Supreme Court will travel to the Drake University Law School for oral arguments Tuesday, March 2, starting at 9:30 a.m. Drake law students will have the opportunity to see how attorneys represent their clients before the court in the courtroom of Drake's Neal and Bea Smith Law Center, 2400 University Avenue.
The supreme court will hear two cases:

09-0608, Hensler v. City of Davenport



The defendant city appeals from the district court's declaratory judgment ruling that the city's parental responsibility ordinance (chapter 9.56 of the Davenport Municipal Code) violated the plaintiff's federal and state substantive due process rights. The defendant also appeals, and the plaintiff cross-appeals from the district court's ruling awarding the plaintiff attorney fees.

08-1478, Mulhern v. Catholic Health Initiatives



The plaintiff has appealed the jury's verdict and the denial of his motion for a new trial after a jury found Elizabeth Von Linden 90 percent at fault for her own suicide death and Mercy Franklin Center and Dr. Scott Jennisch each 5 percent at fault. The plaintiff argues the district court erred: (1) in instructing the jury that Von Linden's suicide could be considered for comparative fault and the sole proximate cause; (2) in failing to submit the plaintiff's theory of "lost chance of survival" to the jury; (3) in failing to submit the plaintiff's proposed "eggshell plaintiff" instruction; and (4) in failing to submit the plaintiff's proposed instruction regarding how the result of treatment could be considered in determining the negligence of the defendant.
Following the arguments, the justices will participate in a question-and-answer session for the students. This special event is designed to help law students become more familiar with appellate court procedure and arguments.
Proceedings will be streamed live from the Law School Web site.



The hearing at Drake is part of the Law School's 73rd Annual Supreme Court Celebration, which also will include a breakfast before the hearing for students and justices of the Iowa Supreme Court. The justices will have lunch with Drake Law School faculty that day.