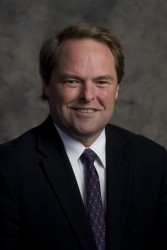 Neil Hamilton
MEDIA CONTACT: Tory Olson, 515-271-1834, tory.olson@drake.edu
How to help create America's next generation of farmers is the
topic of a two-day forum in Washington, D.C., sponsored by Drake
University's Agricultural Law Center.
"The Drake Forum on America's New Farmers: Policy Innovations and
Opportunities," will be held Thursday, March 4, and Friday, March 5, at
the L'Enfant Plaza Hotel in Washington, D.C. To view a full agenda or
to register, visit the Web site.
"Drake is thrilled to convene a national discussion among
stakeholders on new and beginning farmer policy issues," said Professor
Neil Hamilton, director of Drake Law School's Agricultural Law Center.
"The increasing age of America's farm population and the concentration
of land with older landowners makes the question of how to create new
farm operations one of the most critical in the future of our food and
farming system."
"We hope the ideas and conversations at the forum will generate an
agenda to increase the commitment needed to develop the programs and
public support for a national initiative to sow in the next generation
of American farmers," Hamilton added.
The forum will include panel discussions on obstacles facing new
farmers, the challenge of access to land, the availability of finance
and credit, creating new markets and implementing the 2008 Farm Bill.
In attendance will be nearly 180 participants representing 30
states and more than 50 presenters and keynote speakers, including U.S.
Secretary of Agriculture Tom Vilsack, who will discuss "America's New
Generation of Farmers."
One goal for the forum is to address inadequacies in policies and
programs for new and beginning farmers. In a pre-forum survey conducted
by Drake's Agricultural Law Center, 94 percent of participants indicate
that existing programs are inadequate to meet the need.
Hamilton and Matt Russell, food policy project coordinator at
Drake's Agricultural Law Center, who was appointed to the Iowa Farm
Services Agency Committee by President Obama, will bring eight Drake
Law students to the forum. The students are among over 40 attendees who
received scholarships from Drake to attend.
"We are very pleased to bring so many Drake law students to
Washington, D.C., to be involved in discussions with others from around
the nation on this critical issue," Hamilton said. "The new farmers our
nation needs will be the community members these young lawyers will
serve once they graduate."
Drake students — Rachel Dettman, Emily Zerkel, Michael Traxinger;
Kale Van Bruggen, Timothy Reilly, Beth Dooley, Brooke Miller and Allie
Condra — will join other forum attendees including:

Congressional and United Sates Department of Agriculture staff
Recipients of USDA beginning farmer development grants
Representatives from farm credit, banking and financial services
State agricultural officials and farm transition networks
Representatives of farming and commodity organizations
Educators, trainers and students from colleges and universities
In addition, several recent Drake law graduates will speak at the
forum, including Bill Even, the secretary of agriculture for South
Dakota.
The conference is made possibly by support from the USDA Risk
Management Agency; Farm Credit; the National Center for Agricultural
Law Research; the Center for Applied Sustainability at the Walton
School of Business; University of Arkansas; the Leopold Center for
Sustainable Agriculture, Iowa State University; and the Lillian Goldman
Charitable Trust.