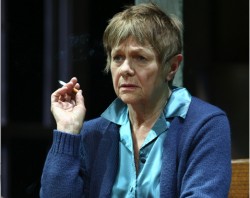 Estelle Parsons as Violet Weston in "August: Osage County."
Academy Award-winning actor Estelle Parsons, who has a leading role in "August: Osage County" at the Civic Center of Greater Des Moines, will visit Drake University Thursday, Feb. 25, for an intimate conversation about acting in the style of "Inside the Actor's Studio."
The event, titled An Actor's Insight, is free and open to the public. It will start at 2 p.m. in Sheslow Auditorium in Old Main, 2507 University Ave.
Drake Associate Professor of Theatre Arts Deena Conley and Civic Center President and CEO and Jeff Chelesvig will moderate the talk, which will span Parsons' career and focus on the craft of acting. Parsons, perhaps best known as Roseanne's feisty mother on the TV series "Roseanne," also will answer questions from the audience.
Parsons' career encompasses a long list of stage and screen credits, including an Oscar Award for her role in the 1967 film "Bonnie and Clyde" and several Tony Award nominations.
She portrays the matriarch Violet Weston In "August: Osage County," which won the 2008 Pulitzer Prize for Drama and the Tony Award for Best Play. Prior to the play's national tour, she performed the role on Broadway.
Written by Tracy Letts and directed by Anna D. Shapiro, "August: Osage County" is a grand, gripping play that tells the story of the Westons, a large extended clan that comes together at their rural Oklahoma homestead when the alcoholic patriarch disappears. Forced to confront unspoken truths and astonishing secrets, the family must also contend with its matriarch, a pill-popping, deeply unsettled woman.
Parsons' appearance at Drake is sponsored by the Civic Center's Education and Community Engagement Department.
"August: Osage County" runs from Feb. 23-28 at the Civic Center. For more information, visit the Civic Center Web site or call 515-246-2300.