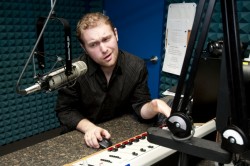 Dan Haymes plays Barry Champlain in Drake's production of "Talk Radio."
Drake University Theatre's production of "Talk Radio," written by Eric Bogosian and directed by John Holman, concludes at 2 p.m. Sunday, March 7, in the Performing Arts Hall of the Harmon Fine Arts Center, 25th Street
and Carpenter Avenue.
The play centers on Barry Champlain, a radio jock, whose show is about to receive national syndication. Like other real-life radio personalities, such as Howard Stern and Rush Limbaugh, Barry is a shock-jock. He abuses his callers with such negative charm they can't seem to get enough.
While the show is radio based, Drake's production will feature elements of web chat. In the age of Skype and Google Cam, many radio talk shows are now moving to the Internet to connect listeners. With this technology available, adapting Drake's production seemed fitting.
"One reason to explore the use of 'web callers' is to have an almost face-to-face exchange between Barry and his adoring callers," Director Holman said. "Having the callers visible, only underlines the disconnect between the constant contact that technology provides people today, while at the same time separating us from real and meaningful interpersonal relationships."
Holman, associate professor of theatrical design, points out that "Talk Radio" isn't all about the technology — it provides commentary on the status of our society as well.
"Barry rises to the heights of his career on the same night that he enters an emotional crisis that questions our society and culture," said Holman, associate professor of theatre arts. "Even the callers who put him at the top of the talk radio game become suspect."
"Talk Radio" premiered in New York in 1987 with writer Bogosian playing the lead role. The show was nominated for a Pulitzer Prize, was adapted into a movie and has been revived several times, most recently on Broadway with Liev Schreiber in 2007.
The show contains mature content not intended for children.
Admission is $6 for adults, $4 for students, senior citizens and those with a Drake ID. Tickets are available at the Fine Arts Center Box Office. Reservations, which are suggested, may be made in person or by calling 515-271-3841.