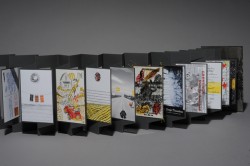 Drake University offers a series of lectures, workshops and demonstrations this spring to highlight the collaborative process among writers, printmakers and bookbinders in the production of artistic handmade books.
Drake's Spring 2010 Book Arts: Dialogues and Languages also will delve into the cultural frameworks that inform the innovations of the book, as well as the book as an object of humanistic inquiry.
The series begins Tuesday, March 2, and continues through April 29. The list of events, which are free and open to the public, appears below:

"Creating Illuminated Manuscripts During the Middle Ages," by Paula Curran, Tuesday, March 2, 2–3 p.m., Honors Lounge, Medbury Hall, 2730 Forest Ave.
Letterpress demonstration by Sara McCoy and Connie Wilson, Tuesday, March 23, 4:30 p.m., third floor of Carnegie Hall, 2511 University Ave.
"The First Information Age: The Invention of Movable Type" by Susan Bridgford, Wednesday, March 31, 5 p.m., Honors Lounge, Medbury Hall.
"Linoleum and Woodcut Printing" by Donna Yeast and Sue Slater, Thursday, April 8, 2 p.m., Reading Room of Cowles Library, 2725 University Ave.
"Hand-made Greeting Cards" by Kevin House, Thursday, April 15; 2 p.m., room 201 of Cowles Library.
"Making Decorative Papers" by Peggy Johnston, Tuesday, April 20, 2 p.m., room 335 of Harmon Fine Arts Center, 25th Street and Carpenter Avenue.
"Calligraphy and Penmanship" by Jean Wilson, Thursday, April 29, 2 p.m., room 201 of Cowles Library.
The series is sponsored by the Drake University Humanities Center, Cowles Library
and World Languages and Cultures Program in collaboration with Prairie
Book Collaborative of Des Moines.
For information, contact Eduardo García-Villada, Drake assistant professor of second language acquisition, at eduardo.garcia@drake.edu or 515-271-4505.