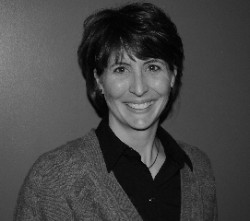 Lisa Brinkmeyer VanDeventer
Former Drake athletes Lisa Brinkmeyer VanDeventer, Warren Whitted and Roger Prescott received the Drake Double D Award during halftime of Saturday's Drake-Evansville men's basketball game at the Drake Knapp Center.
The award is presented annually to Drake letterwinners for achievements in their chosen fields of endeavor and/or community service since leaving Drake. The Double D Award is the highest honor Drake bestows on its student-athletes. Since its inception in 1968, the Double D honor has been presented to 237 former Drake letterwinners.
A reception was held at 1 p.m. Saturday in Levitt Hall in Old Main, followed by a lunch at 1:45 p.m.
Brinkmeyer VanDeventer played women's basketball at Drake from 1993-98, earning honorable mention All-Missouri Valley Conference playing honors as a junior and senior.
She was instrumental in guiding the Bulldogs to the MVC regular-season title in 1997 and 1998 as well as MVC Tournament championships in 1995, 1997 and 1998. She played on Bulldog teams, which competed in the 1995, 1997 and 1998 NCAA Tournament.
After receiving a bachelor's degree in journalism and mass communications in 1998, VanDeventer served as an assistant women's basketball coach at Drake from 1998-2000, with the Bulldogs advancing to the 2000 NCAA Tournament.
She worked with KJJC Sports Radio in Des Moines in 2000 before joining the marketing department at the Kum & Go Corporate Office.
VanDeventer has served as an assistant director with the Iowa Girls High School Athletic Union since 2004. She is the administrator for girl's volleyball and golf and oversees the sanctioning of events, foreign exchange student participation, cooperative sharing agreements and assisting with all state tournament events.
Lisa and her husband, Ted, have a son Hitch. Her father-in-law Herb VanDeventer was a professor in the Social Science department.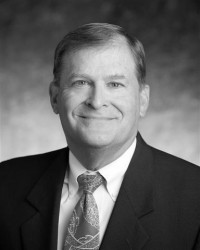 Warren Whitted
Whitted, a 1971 graduate of Drake, lettered on both the Bulldog cross country and track and field teams.
He earned NCAA Indoor All-American honors in 1969 as a member of the
Bulldogs distance medley relay unit. He won the 880 yard run at the
1968 and 1969 Missouri Valley Conference indoor meet, while capturing
the mile title in 1970.
Whitted was a member of Drake teams that won 10 MVC cross country as
well as indoor and outdoor track and field titles from 1968-71. He was
selected as a member of the MVC All-Century Track and Field team in
2008 and recognized as a member of the All-Time Drake track and field
team that was honored at the 75th running of the Drake Relays in 1984.
He has served as a Drake Relays official for more than 30 years and was named to the Drake Relays Wall of Honor in 2009.
The Omaha, Neb., native graduated from the Creighton School of Law in
1974 and has practiced law for over 35 years. He is a shareholder in
the Omaha law firm of Lieben, Whitted, Houghton, Slowiaczek and
Cavanagh, P.C., L.L.O.
Active in numerous community affairs, Whitted served as chairman of the
United Way Fund Drive and President of the United Way in Hastings,
Neb., as well as chairman of the board of the Hastings Area Chamber of
Commerce.
Whitted is a 30-year member of the Nebraska Golf Association Board of
Directors. He has served as president of the Omaha Rotary Club.

In the legal profession, Whitted has served as a member of the Nebraska
Supreme Court Technology Committee and completed a term as vice chair
of the Nebraska Commission on the Unathorized Practice of Law.
He will be president of the Nebraska State Bar Association in 2012-13.
Whitted and his wife, Nancy, have a son, Warren III, and daughter, Kristin, along with three grandchildren.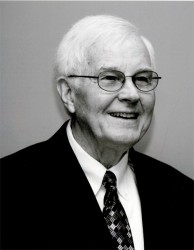 Roger Prescott
Prescott enjoyed a distinguished career in education, both as a
professor of physical education and a highly successful coach at the
University of Wisconsin-Superior.
A native of Nevada, Iowa, Prescott served in the U.S. Navy from 1953-57
before attending Drake where he earned a bachelor of science degree in
physical education in 1961. He earned a masters degree from Truman
State in 1964 and received a doctorate degree from Utah in 1968.
He was a three-year letterwinner in basketball and also was a sprinter and triple jumper for the Drake track and field team.
He taught in the Newton (Iowa) Public School district from 1961-65
before serving as an assistant basketball coach at Drake from 1965-67.
Prescott moved to Wisconsin-Superior in 1968, where he was head coach
for the women's basketball team as well as the men's and women's cross
country teams. He also was an assistant men's basketball coach and
assistant football coach.
He was named the Wisconsin Women's Intercollegiate Basketball Coach of the Year in 1984.
Active in numerous university committees at Wisconsin-Superior,
Prescott also has volunteered for the Wisconsin Special Olympics, the
American Cancer Society, the Salvation Army, United Way camp and served
as president of the church council for Our Saviors' Lutheran Church in
Superior