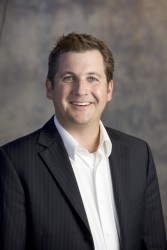 Craig Owens
In his generally positive New York Times review of "The Year's Work in Lebowski Studies," Dwight Garner humorously suggests that Craig Owens might have "been hitting the minibar" while writing the essay he contributed to the book.
Owens, Drake University associate professor of English, laughs about the comment.
"It fits the spirit of the piece, but not as in 'the spirits,' because I wrote the essay entirely sober," says Owens.
Not that the essay, itself, is sober in tone, which would have been impossible given the subject: a cocktail known as a White Russian. It's the preferred beverage of Jeff "The Dude" Lebowski, probably the most inspiring character ever concocted by acclaimed filmmakers Joel and Ethan Coen.


Lebowski Power
Played by Jeff Bridges, the Dude is the central character in the Coens' 1998 film, "The Big Lebowski." He's a stoner slacker who spends his days bowling and slurping down White Russians.
His easy-going L.A. life gets violently interrupted when a living room rug, that the Dude says "really held the room together," is stolen. Looking to get the rug back, the Dude ends up being mistaken for a millionaire who shares his name. All sorts of weirdness ensues.
"The Big Lebowski" wasn't a big hit, despite being deemed the best foreign film of 1998 by the Russian Guild of Film Critics. But now it's rightfully considered a cult classic and has spawned a number of books, as well as annual events called Lebowskifests, which are held at bowling alleys around the country.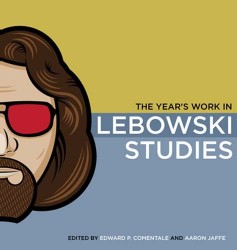 "
The Year's Work in Lebowski Studies
"
(Indiana University Press) is the latest volume inspired by the movie.
It's already gone through at least two printings and is available in Drake's Cowles Library and through bookstores. At Amazon.com, it ranks 21st this month in sales of movie history and criticism books. Such is
the enduring power of Lebowski.
From Martinis to White Russians
Owens has an obvious appreciation for pop culture and high art. One
wall of his Howard Hall office features a theater poster for a
production of works by Bertolt Brecht, while above his desk hangs an
image from "Animal House" of John Belushi wearing a sweatshirt that
reads "College." Oh, and on the floor, there's a faded paisley rug that
really holds the room together.
Owens teaches writing and literature, including the plays of Samuel
Beckett, Harold Pinter and George Bernard Shaw. He also conducts a course
on the history of the British gothic novel, which culminates with the
birth of the British spy novel, forever embodied by Ian Fleming's
iconic James Bond, Agent 007.
In 2003, Owens presented a paper on Bond's favorite cocktail — a
vodka martini, shaken, not stirred — at a conference on Fleming and
the cultural politics of 007. Ed Comentale, one of the editors of the
book that came out of that conference and an editor on the Lebowski
book, remembered Owens and asked him to contribute the White Russian
essay.
"I was happy to take up the challenge," says Owens. "I'd seen the
movie as an interested spectator but hadn't watched it analytically."


Beverage Theory
Owens' essay, itself, is something of a cocktail. It's an
entertaining and insightful mix of silly and serious, which befits the
movie. It reads like an academic work, with some twists.
"With a project like this, you have to be serious enough to justify
the academic exercise, but you can't let the seriousness diminish the
fun of the film," he says.
"It's what I call serious play. I was asked to focus on what
appears to be an extraneous element — a prop almost. It's a tiny
object with nothing to say about the entire film, but that doesn't mean
it doesn't have some serious purpose in being there."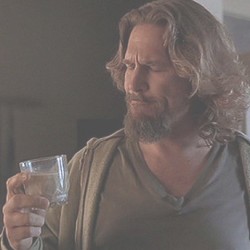 The Dude likes fresh cream in his White Russians.
Indeed, Owens' essay starts with an examination of White Russian
mixology theories, which he found using bartending guides and the
Internet.
"There is some heated debate about what it is and how to make it,"
says Owens. "Generally there are two opinions — one with rules and one
with no rules."
The "rules" people say the drink is best made by floating cream or
milk on a sweet brown layer of vodka and coffee liqueur. "No rules"
leans toward a totally blended version. Lebowski, Owens notes, falls
somewhere in the middle, not really worrying how it comes together, as
long as the cream is fresh.
Film Appreciation
Though focused on "The Big Lebowski," Owens' essay ultimately
stands as an example of why movies can be so much fun. Enjoy them on
the surface if that's your pleasure, or dive in there and try to suss
out the meaning behind this or that aspect of the film.
Why, for example, did the Coens assign a specific cocktail to their
character? Owens' essay goes on to discuss what White Russians say
about the Dude and modern manhood, and whether the creamy libation
represents motherhood. And is there any significance to the fact that
former Russian leader Leon Trotsky fled to Mexico, where the coffee
liqueur Kahlua is made?
It's a lot to drink in.
"You have to pay attention," says Owens. "Discreet moments in a
film create a matrix of meaning — the meaning doesn't arise from one
White Russian but in the context of how it's being used.
"When something like a White Russian is used frequently in a film,
it's an invitation to look deeper. The film explicitly invites viewers
to engage in interpretive activities, which is something I think most
cult films do."