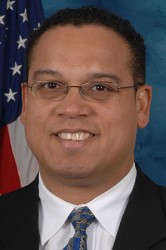 CONTACT: Tory Olson, 515-271-1834,
tory.olson@drake.edu
; Isaiah Ellison,
Isaiah.ellison@drake.edu
Drake University will host U.S. Rep. Keith Ellison, D-Minn., for a discussion on Palestine and Israel on Monday, March 1.
The discussion, "Palestine-Israel: American Congressman's account of the Occupied Territories," will be held at 7 p.m. in Bulldog Theater in Olmsted Center, 2875 University Ave. It is free and open to the public.
Ellison will discuss his recent experiences in touring Gaza and Israel, where he met with many citizens and government officials, and saw the impact of the ongoing conflict.
He is serving his second term representing the Fifth District of Minnesota, which consists of Minneapolis and surrounding suburbs. He sits on the House Financial Services and Foreign Affairs Committees.
The lecture is sponsored by Drake's Muslim Student Association.