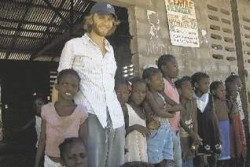 Tom Stehl with children in Haiti.
The devastating earthquake in Haiti has created new challenges for Tom Stehl, a National Alumni Scholar and 2001 graduate of Drake University, who works for Meds and Food for Kids, a nonprofit group devoted to saving the lives of Haitian children suffering from malnutrition.
Meds and Food for Kids, based in St. Louis, has a factory in Haiti that produces a special food for malnourished children called Medika Mamba, which means "peanut butter medicine" in Haitian Creole.
Stehl, 31, serves as operations coordinator for Meds and Food for Kids, which employs Haitians at its factory and buys much of the raw materials for Medika Mamba from Haitian farmers.
The Medika Mamba factory, which is about 150 miles north of Port-au-Prince, was not damaged in the earthquake. But Meds and Food for Kids lost a container full of 80,000-worth of raw materials for Medika Mamba that was in a Haitian seaport when the quake hit.
Suppliers have offered to replace the materials at no cost, so Stehl is working on getting the materials into the Dominican Republic and then to the factory in Haiti.
Read more about Stehl in a story in this week's Des Moines Register.
For more information about Meds and Food for Kids, visit the organization's Web site or call 314-420-1634.