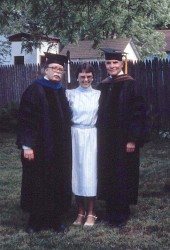 William S.E. Coleman, Linda Robbins Coleman and James Mitchell gather after commencement in 1985.
The recent death of James Mitchell, who played gruff patriarch Palmer Cortland for nearly 30 years on the soap opera "All My Children," has prompted Drake faculty and alumni to reflect on Mitchell's ties to Drake.
William S.E. Coleman, Drake professor emeritus of theatre arts, first invited Mitchell to come to campus as a guest artist in 1968. Mitchell said he wanted to direct "Three Penny Opera," so Coleman, who chaired the theatre arts department at that time, arranged for him to do so.
"He had an appendicitis attack just a few days before he was going to come to Drake and had to cancel," Coleman recalled. "I changed the production schedule for the entire year to make room for him to come at another time. When you did something for him, you became a friend forever. His production of 'Three Penny' was brilliant."
Coleman and Mitchell stayed in touch and in 1984, Coleman persuaded Mitchell to give up his vacation and return to Drake to teach for two weeks. Mitchell returned to Drake and spent two weeks teaching classes in movement, dancing and acting.
Instead of staying at a hotel, he was a guest at the home of Coleman and his wife, Drake alumna and composer Linda Robbins Coleman.
"He really liked the way Linda cooked and he loved her music," Coleman said. "They got along great, right up until the last time they talked — when he called to wish her a happy birthday on Jan. 1."
During his two weeks of teaching at Drake, Mitchell made quite an impression on the students.
"It was a great privilege to meet him and to learn from him," Ann Becker, a 1985 Drake graduate, said in a posting to Coleman's Facebook page. "He was so very kind and generous. I still have a note he wrote to me in response to a letter I sent him. And my mom was so thrilled to meet him at our graduation, when he was given an honorary degree."
Drake presented Mitchell with an honorary Doctor of Fine Arts degree at commencement in 1985 in recognition of his long and distinguished career as a performer on stage and screen.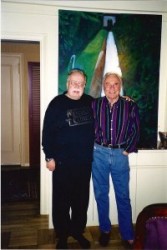 A more recent photo of Bill Coleman and James Mitchell.
Coleman had nominated Mitchell for the honor. "To me, he was the older
brother I never had as an only child," Coleman said. "He was so
civilized, sophisticated, interested in the arts — and always kind and
considerate. His fame amused him."
Mitchell, 89, died Jan. 22 at Cedars-Sinai Medical Center in Los
Angeles. He had suffered from chronic obstructive pulmonary disease for
years, complicated by a recent bout of pneumonia.
He appeared in more than 300 episodes of "All My Children" from
1979 until a 40th anniversary episode this month. He was a regular on
the show until 2008.
Born in Sacramento, Calif., in 1920, Mitchell trained as a dancer
and had leading roles in the Broadway musicals "Brigadoon" and "Paint
Your Wagon. He also danced on stage with the American Ballet Theater
and Agnes de Mille Dance Theater.
His film credits include 1953's "The Band Wagon" with Fred Astaire, 1954's "Deep in My Heart" and 1955's "Oklahoma."