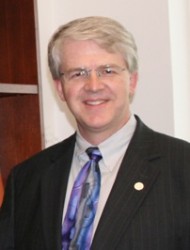 Michael J. Renner
Drake University Provost Michael J. Renner recently collaborated with several colleagues in the Association for Psychological Science to publish a collection of stories about one of his mentors.
The collection was published in the December issue of the APS Observer newsletter.
It begins with Renner's essay, which characterizes the late Mark Rosenzweig as an "unfailingly polite, modest, and reserved" man and "you would never know from talking to him just how profoundly important his work was."
"If we were short-handed when running rats in mazes, you'd find him in the lab with a stopwatch and clipboard," Renner wrote.
Rosenzweig, who died last summer at his home in Berkeley, Calif., at
86, was a research psychologist who proved that experiences in
adulthood and childhood reshape the brain.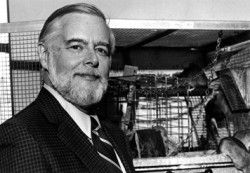 Mark Rosenzweig
He was well known for his work and research with rats and for a
series of experiments on 'enriched environment' that found the cerebral
cortex in brains of rats living in richer environments grew in response
to this experience.
This discovery that the brain is 'plastic' formed
the basis for much of contemporary neuroscience.
"This was a life that deserves to be celebrated and I was honored
to be asked to organize this collection," Renner wrote.
"Mark
Rosenzweig was a
noteworthy scientist, a generous teacher, and a good human being."