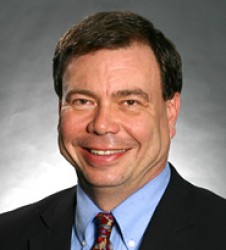 Tom Hadden
CONTACT: Tory Olson, 515-271-1834, tory.olson@drake.edu
Tom Hadden, executive director of Metro Waste Authority, will speak as part of Drake University's "Let's DU Lunch" series on Wednesday, Feb. 3.
The talk will be held at AllPlay, 615 Third St. in downtown Des Moines and is open to the public. Networking begins at 11:30 a.m., followed by lunch and the program at noon.
Hadden has served as executive director of Metro Waste Authority (MWA) since 1996. He spearheaded the development of the first constructed wetland for landfill water treatment in the United States, expanded hazardous waste collection in 20 central Iowa counties and introduced conservation practices to MWA facilities and other communities.
Under Hadden's direction, MWA has received numerous national awards including Best Landfill of North America, Best Transfer Station in North America as well as the Outstanding Business Integrity Award from the Greater Des Moines Better Business Bureau.
The luncheon costs $17 and reservations are highly recommended by Jan. 27 due to limited seating.
The series will continue with programs on:
March 3 — Judy Bradshaw, chief of police for Des Moines Police Department
April 7 — Greg Edwards, president and CEO of the Greater Des Moines Convention and Visitors Bureau
Drake University and the Greater Des Moines Partnership sponsor the "Let's DU Lunch" series.
For more information or to make reservations, contact the Office of Alumni and Parent Relations at 515-271-2500.