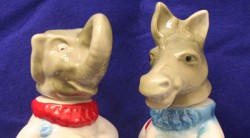 Iowa's political landscape and the upcoming precinct caucuses will be the topic of the next IowaPolitics.com forum at 2:45 p.m. Thursday, Jan. 14, at Drake University.
The event, which is free and open to the public, will be held in Levitt Hall in Old Main, 2507 University Ave.
The confirmed participants are:

Iowa Democratic Party Chairman Michael Kiernan
Republican Party of Iowa Chairman Matt Strawn
IowaPolitics.com Des Moines Bureau Chief Lynn Campbell will moderate the program, and questions will be accepted from audience members.
The forum will be broadcast later on the Mediacom Connections channel statewide and will be available for On Demand viewing on Mediacom Channel 1.
The forum is part of the "Cookies and Conversation" series presented by Drake, IowaPolitics.com and Mediacom. Wal-Mart and Mediacom are event sponsors.
Doors open at 2:30 p.m. and taping of the show will be from 3 to 4 p.m. Advance registration is required. There are several registration options:

IowaPolitics.com is an independent, nonpartisan electronic news service offering a free Web site and paid subscriber products.